We're all learning a lot of new things as the COVID-19 outbreak continues.
Many of us are streaming youth group for the very first time and figuring out what it means to be a digital community!
DYM has had a huge community online for some time on Facebook for youth pastors to share ideas, wins, and struggles.
If you're still scrambling, join the group and search for the MANY ideas and tips youth pastors are giving out there! Below are just some of the lessons learned and quick tips for those who are going online this week!
Brad Daniel: Watch parties [on Facebook] are good but they can separate from your larger church comments, etc. People who interacted in my watch party didn't show in the larger church livestream. Just a good learning-that isn't bad, but strategically it is good to know.

Mandee Winrotte: We've never done any sort of ANYTHING online other than audio sermons so we had NO frame of reference on what to be doing. What we learned is to find the person/people in your church who have experience—they're sometimes not well known for that sort of expertise, but they're out there.

The person who shot and edited our video is a youth sponsor with an education background. If you didn't ask him, you wouldn't know what he was capable of.

Shawn Allen: I learned a standard definition video takes 2 hours to upload to YouTube today…. our plans got botched. We met this morning and recorded. Told people to go to YouTube at 10:30 (our normal time) to watch the message. Didn't get uploaded til 11:30!

Luke Beard: If you don't have someone running the camera, make sure everything is in frame. Our preacher kept walking out of the camera frame, and the podium was even partially out of frame. They were trying to get the worship team and the pulpit all in one shot and it didn't make the most sense. I think next week we either do two cameras or just have someone turn the camera after the sermon is done and then turn it back when the singing starts again, which is after communion and sermon.

Jeff Ross: Prepare ahead of time. We pre recorded everything and posted it on Facebook and YouTube as video premieres. Worked really well. We used songs that were from weeks prior. The only new thing was the intro, sermon, and outro.

Brandon Smith: Even with the best preparation, lag is still a thing.

Ervin Liang:  Tonight our youth ministry met online for small groups! We used ZOOM! Everyone met together first and then we broke people out into "break out rooms" (what Zoom calls it) so that each small group could meet on their own! It's a really cool feature and the host has the ability to bring everyone back together and use an "announcement feature" to send messages to each small group! You can also create polls for everyone to answer as well!

We g

ot the paid version! $15 a month per host, allows up to 100 people. Only the paid version allows the break out rooms to happen right now. But you can have individual free accounts and just have each small group leader create their own meeting!!

Shout out to

Steve Anderson

and

Mathew McCabe

20+ years of YM experience and still killing the game. They have a podcast called Youth Ministry Sherpas that is going on the DYM podcast network soon!
And finally:
John R Slater: I learned you don't need pants on to lead worship in an empty room… 

😂

😂

😂
What you planning to use for your online gathering? Zoom? Facebook? Instagram? Are you going to download and learn
OBS
, free tool that lets you add in video, slides, etc?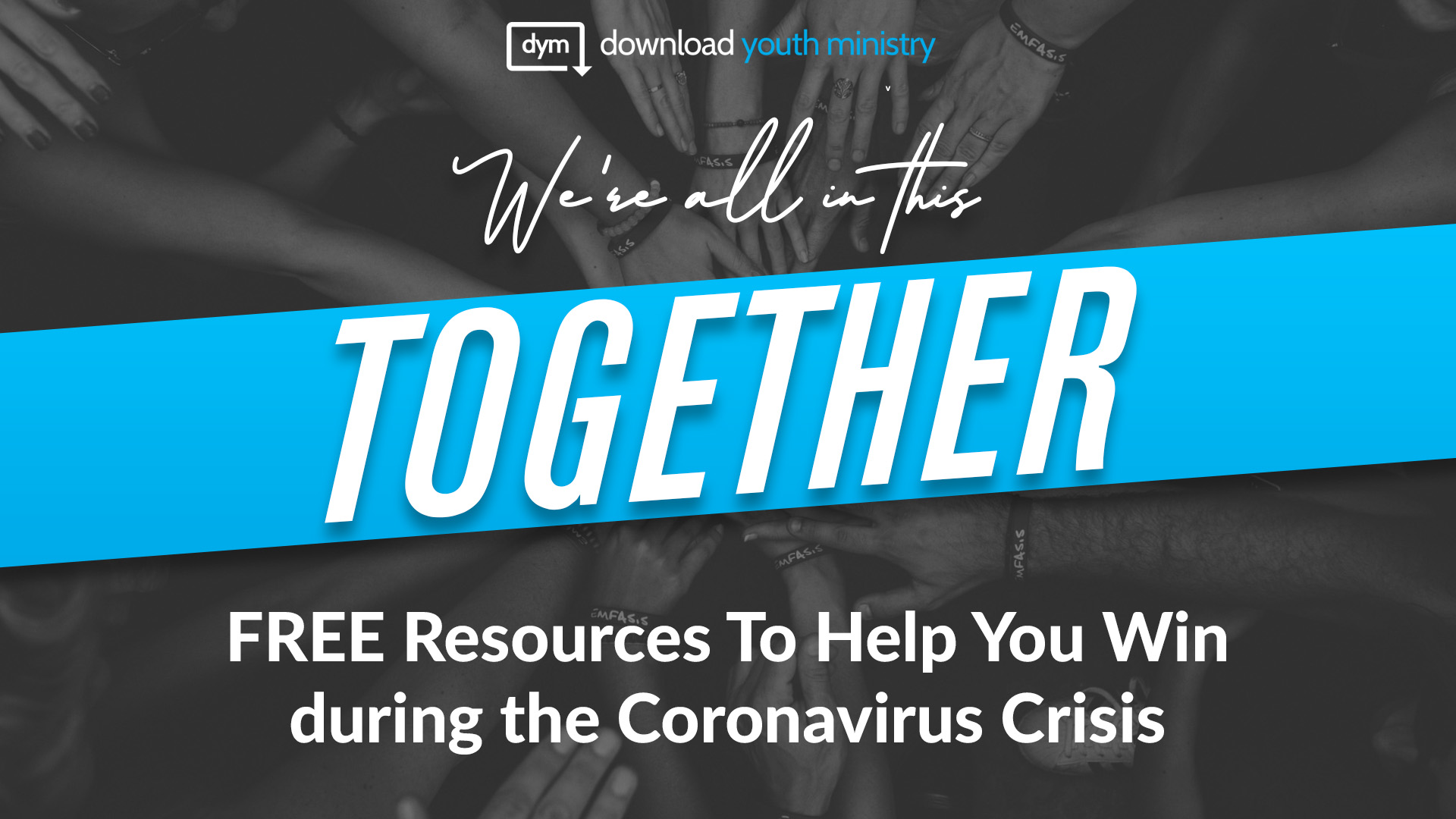 Still have a few more days of planning before your first online gathering? Check out these
free resources and how-to tips
Doug and Josh put together for youth workers going online! It's over $100 worth of content for free! Even in the face of a crisis, that's how DYM helps youth workers win!