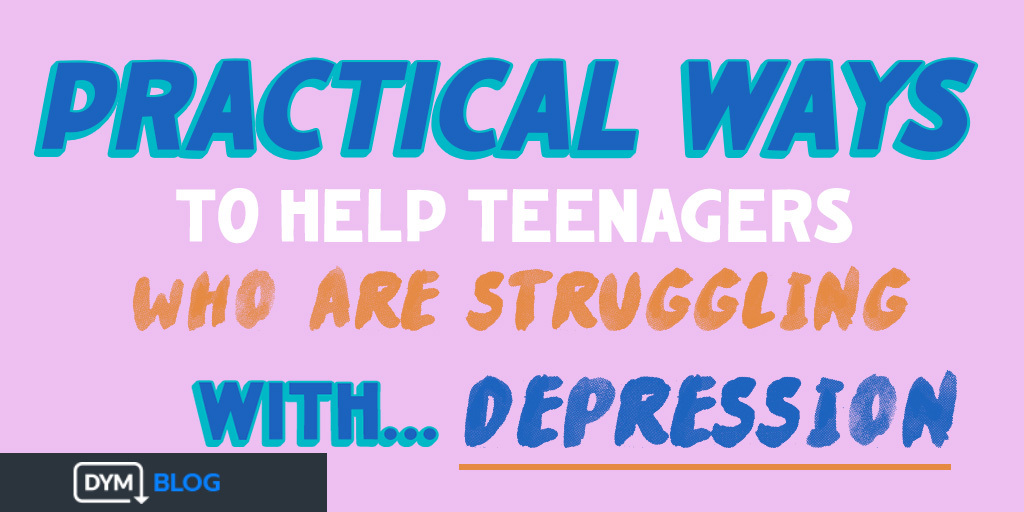 Our series continues as we tackle how to support students who might be struggling with depression.
Alongside of anxiety, depression is also one of the most diagnosed disorders in the United States. Depression involves severe symptoms that affect how a person feels, thinks, and handles daily activities like eating, sleeping, and/or working or school. In 2020, it was estimated that 4.1 million adolescents between 12-17 had at least one major depressive episode (NIMH, Major Depression, 2022).  So I think it's fair to say that there are students in our ministries who are experiencing symptoms of depression.
How can we show up for them? Here are a few ways…
6 Practical Ways to Care for Students Who are Struggling With Depression 
1.Encourage Professional Help  
You don't have to have all the answers, but having a trusted list of professionals to refer students and parents to is key!

Counseling, Medical Professional, and/or Cognitive Behavioral Therapy are all things a student could benefit from.

2. Be Supportive 
Validate their emotions, not unhealthy behavior.



3. Be Compassionately Curious  
Ask questions gently and patiently

 

Don't try to solve the problem, simply be present
4. Notice the Positive Things  
Make sure to notice the small things, encourage them in that.

 
5. Partner with Parents 
If the student hasn't talked to their family, this is a MUST. You cannot keep depression a secret.

 

Offer to talk to parents WITH the student, agree to a date that they will talk to their parents by, if they don't by that date let them know you will share with their parents for them.

If the parent is already aware, check in with them about their student, but also check in on the parent.

 
6. Check in with the student  
If they haven't been showing up for a while, text them, call them, DM them on social media.

 

Don't make them feel bad for missing youth group, just acknowledge you are thinking about them.

 

Offer to take them out somewhere, 1-on-1

 

Ask for parent permission.

 

Don't be offended if they say no, the ask goes a long way. 

 
Resources: 
Anxiety and Depression Association of America 
Seen: Healing Despair And Anxiety In Kids And Teens Through The Power Of Connection 
---
Want to start conversations about Mental Health in your youth group? Check out a brand new Mental Health series at Download Youth Ministry:
This 4-week series addresses mental health from a physical, mental, and spiritual perspective. Mental illnesses are real and daunting, but even in the middle of it, there can be hope. The first week gives a mental health overview, the second week addresses depression, the third week addresses anxiety, and the fourth week addresses suicide.
For the month of May, 100% of the proceeds for this resource will go to a scholarship fund to help youth workers with a mental health challenge see a counselor. If you are interested in this scholarship, you can fill out the application here.