As youth workers, I think we do a good job of talking about mental health and teens, although there are always ways we can do better. But what happens when those struggles hit too close to home and you find yourself coping with severe mental illness in a loved one? I'm willing to bet I'm not alone in that struggle, but unfortunately as ministry leaders, it's not something that gets discussed enough. We struggle to keep up the facade that our lives must be in order and everything should be idealistic and happy. But for many of us, that just isn't the reality. And for a long time, this has been my reality. A year ago my husband was officially diagnosed with severe mental illness, and it has reshaped my life. But through this journey, which often feels more like climbing Mt. Everest, there are some things I have learned.
Be honest with your team and church leadership
The first time I took my husband to the hospital, and even before that, our church staff were some of the only people who knew what was going on behind the scenes. They were praying for me, jumping in where needed, and in general, being the support system I lacked, because dealing with mental illness in a loved one is lonely and isolating. I over communicate and have learned to be upfront and honest about when I need specific prayer, advice, or when I need support to maintain my ministry duties.
Seek professional help for yourself
I wish I would have done this sooner than I did. I waited until things were so bad that I felt I was trapped in this new reality and was losing myself before I sought professional counseling. I told myself that because I was coping well and was maintaining everything I usually do, that there wasn't much a therapist could teach me. I was very wrong. Going to counseling has been the single best thing I have done for myself. When you are taking care of a loved one with a mental illness, you often have to pick up the slack and take on many new responsibilities. This usually means that you will sacrifice yourself and put yourself on the back burner. That's how you burn out, especially in ministry where burn out rates are already high. Seek professional help. Chances are, you'll know pretty quickly if it will be helpful or not. And if the first person you see isn't a great fit, don't be discouraged. I tried two therapists before I found the one that was a good fit for me.
Ask for help and let things go
This is the hardest one for me because generally, I have maintained all my normal duties. But there have been times when I couldn't and felt very guilty for that. I felt as if I was failing as a pastor because I couldn't make every meeting that week, or lead the weekly Bible study, or even preach some weekends. One of the things my senior pastor told me early on was that he is not a mind reader and if I need help, I need to ask for it. Recognize that you are not superhuman. You cannot do everything all the time, especially now.
Take care of you first
This seems counterintuitive when you are living with someone with a mental illness. You are always worried about them, taking care of them, and taking care of everything else that needs done. But chances are, especially if it's your spouse, there is no one to take care of you or put you first right now, so you need to sometimes. That means you need to make sure you are always safe, both physically and mentally. That means you need to take seriously sabbath time and days off. Prioritize healthy habits and self-care. You cannot care for someone effectively if you are not being cared for.
I could go on and list far more things I've learned, but I think as ministry leaders, these are some of the best tips I can offer. And remember above all else, you are not alone. There is a God who loves you and holds you in his arms. There is a God who sees your pain and knows how weary you are. And that God will never leave you, never abandon you, and will give you perfect peace and his strength. Lean into that. Know that you are seen, you are loved, and you are not alone.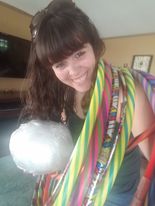 Ashley Weyant
I'm the Children & Youth Pastor at Ebensburg UMC in Ebensburg, PA. I've been involved in youth ministry off and on, but have been a bi-vocational youth leader for four years. I love youth ministry and am passionate about seeing students grow in their relationship with God!