This weekend, our Create ministry launched a new student art wall! The Create ministry is a team made up of our painters, sculptors, doodlers, and pinterest-ers. It is such a fun ministry and we use them all the time to execute projects like our college destination map and even use them to help with stage design!
Their newest project was to put together a wall where students can display their art. I love this idea because this gives students the opportunity to show their art in a way that they don't usually get to. Artsy students can often be the ones that don't fit in super well with other students, so it is great to have another avenue to reach out to them. This wall gives our students a consistent goal and a piece of our ministry that they get to own.
We made sure to add a piece that told the purpose of the ministry and the wall in general.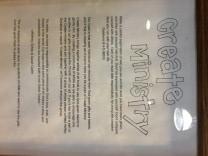 I'm so excited about the future of this wall. I can see us using themed art for worship nights or art aimed around a specific weekend series (addiction, persecution, etc.). Easy idea that can be used in any ministry!
Colton