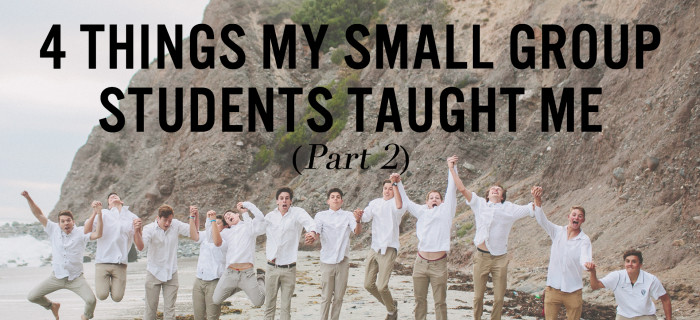 A few weeks ago, I ended my four-year small group journey with 11 of the best young men on the planet. They were the first group I have ever led, so naturally I have been processing so much about the experience. Through that, I have been able to write down and organize all of my thoughts, feelings, and lessons that I have learned along the way. I thought I'd share some of my most impactful ones with you guys. The first being, learning to have fun!
I am not fun. I will be the first to admit it. In fact, it is actually the first thing I tell the students in my cabin at camps. I am a rule follower through and through. So you can imagine my anxiety when I realized that I got the rowdiest group of students in my Life Group. And I know people often think, "oh, my students are the craziest." But mine actually were. From almost burning down our cabin at winter camp, to being the only kids to get hurt at our weekend retreat, my guys quickly became known as the most rambunctious group of students in our ministry. I went crazy.
There were actually several nights that I went home after small group and was hurt and frustrated by the actions of my guys. I felt so disrespected and completely defeated. I had no idea why they were not engaging in group and how they couldn't take anything seriously. Here is what I learned, it wasn't all their fault… it was mine too! My Life Group program was SO BORING. My lessons were too long, I had too many rules, I didn't pick my battles, and I just had no room for fun or laughter.
Once I started to change that around, I noticed HUGE changes. I would end group early to save time to just play together. We would spend some nights just getting ice cream and playing handball at elementary schools. We just had fun. Through that, we started being able to find compromises. We had a struggle… they wanted to rebel from my strictness and I wanted to force them to take things seriously. Once I loosened up, they tightened up.
My Life Group taught me such a valuable lesson, not just for ministry, but for life. To have fun. To not take everything so seriously. To break the rules every once in a while. To look the other way. To laugh a ton. And to make incredible memories. They truly revealed a big new piece of relational ministry and made me a better pastor through it.
By this time, the majority of schools should be out for the summer, meaning the end of small groups for many of us. As I continue to write these, share your experiences. Share a funny story or even a lesson of your own!