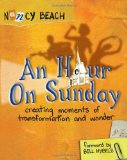 In this new, five-part series we're focusing on creating special moments in a youth service. I believe every youth service has to have a 'special moment', a moment in which students have a personal encounter with God. It can be through a song, a piece of drama, a video or something you do together, but whatever it is, its purpose is to bring students closer to God.
I want to kick off this series with a book review of An hour on Sunday, written by Nancy Beach, because this book made me realize the power of a special moment. Nancy Beach was the Arts Leader and a teaching pastor at Willow Creek Community Church and it still on Willow's Executive Team. That may lead you to think that this book is only for those in a big church, those inside the 'Willow Creek movement' or those with a 'community' type of church. Wrong. No matter how big your church or your youth group is, no matter what denomination you're in, this book is for you.Nancy brings this message from an 'Arts Leader' (or a Director of Programming) point of view. Now I don't know about your youth ministry, but in my youth ministry the Director of Programming was me. I was youth ministry leader, small group leader, programming director and I don't know what else (not that I had to do it all by myself, thank goodness no. I've always worked with teams of teens, youth and youth leaders to organize anything!) And I have learned a lot from books like this one! The book is written with the Sunday service in mind, but I have applied the principles to many youth services.
The key thought in this book is that 'the hour on Sunday can be a time of wonder, a time of transformation, maybe even a time of awe'. It helps us focus on the true goal of every service: to see people leave a changed person. Our goal is not just to inform people, to give them knowledge. We long for them to be transformed, to be touched, to be changed in that hour that we have their attention. We'll go into more detail in the next post in this series called Creating special moments.
'An hour on Sunday' gives you all the tools you need to design and prepare your services in such a way as to create 'special moments', using arts (music, drama, props etc). The first half of the books focuses on what Nancy calls 'Getting ready for Sundays. It's about teamwork, leadership, community with the focus on 'dealing' with artsy people.
But it's the second part of the book that's truly inspiring. These are the chapters in which Nancy describes how you can create special moments (she calls them transcendent moments) in a service, what transformational teaching looks like and how to get there, they're chock full of great advice. She discusses the role of music, drama, props, etc and the importance of fluid transitions.
The examples she gives from her own experience (both good ones and those that didn't work) are exhilarating and her honesty and transparency are encouraging. It doesn't make you feel like she knows it all and hits perfect homeruns every time. It's one of the most inspiring and practical how to-books I've ever read.
I have found that I keep grabbing An Hour on Sunday
when I'm preparing for a service, to be reminded of the crucial importance of special moments and to be inspired by all the examples. Just to be clear, it's not a new book (it was first published in 2004), but I strongly recommend it for any youth leader involved in planning and organizing (youth) services.
Have you read this book? What did you think of it?