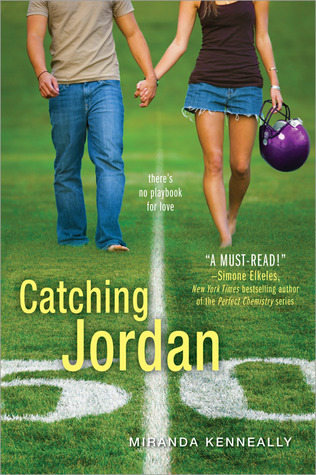 To be able to recommend good books to students, I also read young adult fiction. Catching Jordan is an example and I read it because it's done very well in sales and reviews and has appeared on several 'best young adult reads of 2012' lists. It's not an inspirational or Christian novel in any way, let's make that clear before hand.
Catching Jordan
is the story of a girl who lives for football and wants nothing more than to win a football scholarship to college. Jordan is one of the boys and is perfectly happy that way, until a new addition to the team shakes everything up, There's her best friend Harry who develops more than friendly feelings for her and Jordan's own confusing feelings for newcomer Ty.
The book has gotten raving reviews and I can see why. The premise of a girl who plays football is interesting and author Miranda Kenneally writes well. The dialogue is snappy and the football scenes are believable. Also, there's the ever-interesting plot about the best friend who wants more (in this case the very lovable character of Harry) and the newcomer.
I thought the book was good, but there was room for improvement as well. Ty wasn't as well a developed character as Harry was and he was too two-dimensional for me. There were some things in his behavior and past that could have been explored more (but that would have been a challenge, as the book is written from Jordan's point of view). The same goes for Jordan's dad, whose attitude I found to be too cliché (he doesn't want Jordan to play football). Also, I didn't 'get' Jordan's decision to sleep with Ty and not just from a Christian point of view. Her reasoning for doing that when before she had never even kissed a boy weren't believable to me.
There's some strong language in Catching Jordan
and there's a sex scene, though not graphically written, as well as some scenes with sexual tension. Also, the boys' (I mean the guys on the team) behavior and language in the book is far from Christian. There's a lot of talk about one night stands and stuff. So you really need to read this book yourself before recommending it to your students (girls in this case) to see if it's appropriate in your context. I myself would hesitate to recommend it and if I did, I'd definitely do a follow up and talk about the book, especially the relationships Jordan has. In that case, it could serve well as a discussion starter about topics like relationships and sex, for instance with non-churched girls.