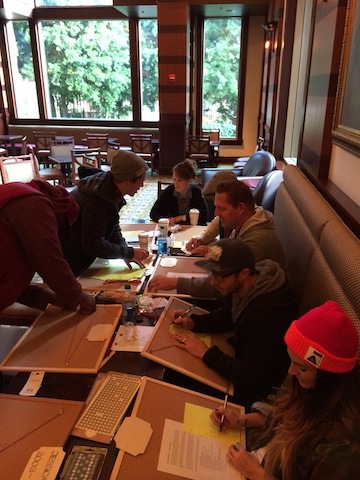 This past week I took some of my team out for our annual "State of HSM" day where we talk about the past year and look forward to the year ahead. Over the years here at our church it has become one of my favorite days of the year. We take pictures, eat Christmas goodies, talk, laugh and cry about all that God did in the past year since we were together in the same spot around the Christmas tree. This year we had a special surprise for them to do while we were all together – a youth ministry timeline art project!
I have been inspired over the past week to talk about My Youth Ministry Timeline and The Story of My Life … in Youth Ministry and we thought it might be fun to take those exercises and visualize them as a sort of crafty art project together. As we reflected on youth ministry past it gave us a sense of all we had learned, where God was so present and an expectation of the future we would have together, too.
It was super meaningful! A fantastic day, with a fun cork board of memories to mount on the wall of the office now, too! Here are a couple examples of how their near-finished and very unique projects turned out:
Might be a fun project to do with your team, too!
JG