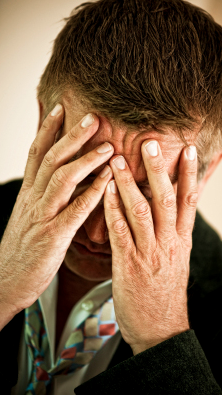 Last week I had a couple posts where I revealed some of the things that discourage me and then a second post on ways I've tried to deal with discouragement. I got a huge number of responses of people chiming in with what discourages them. I thought I'd share this list with you in the hopes that it would make you feel like you're not alone. Ministry can be discouraging, and our friends express it in this list:
Resistant students (Jana)
When adult and student leaders have a moral failure (Tyler)
Being told how to your job by many different people (Jerry)
Gossip (Jimmy)
When a student you've been working closely with knows God's ways and continually rejects them (Derek)
When a student was really hurting and needed help but I missed seeing it (Zach)
When I do not do what I have set out to do, or I am unreliable, or I am flaky (Ali)
My biggest discouragement often came from emails with sharp, unjust criticism (Rachel)
Discouragement seems to go hand-in-hand with feelings of isolation (Seth)
Our building program, it creates stress and an added burden (Matt)
Lack of significant friendships (Justin)
Parents in my Church letting there kids attend another youth ministry regularly, and when parents make sure their kids are at every practice/rehearsal for hours, then complain a 30 minute bible study is too long (Layne)
Exuberant high school student leading in great ways on Sunday, and then seeing that same student cussing or belittling another student on Facebook Monday (Maryann)
People (staff or volunteers) serving outside of their giftedness and they don't realize it. (David)
The comparison game, whether it is to to church down the street or the "glorious" former youth pastor (Brandon)
Over-functioning volunteers, parents, and staff (Austin)
Trying to meet everyone's definition of success (James)
Feeling isolated from people our own age (Dusty)
When people leave the church…for good reasons (Joseph)
Lack of respect and sleep deprivation because of a new baby (Sean)
When a youth pastor reluctantly leads the ministry–no passion, no enthusiasm, just "going through the motions" (Matt)
When parents or students have a problem, complaint, or issue with me or the ministry and don't come talk to me about it, and i just hear about it (Amykay)
By my failures (Klint)
Almost immediately after I've finished speaking a message and feel like I could have done better (Josh)
I get discouraged when home-school parents don't allow their kids to attend youth group for a variety of reasons (James)
When you seem to struggle over the same thing again and again and people don't seem to recognize the pain in your failures (Josh)
Undefined Expectations (Stephen)
The relationship with the Pastor and the feeling of being thrown under the bus (David)
You're not alone. Hang-in there. If needed, go back and revisit the list of ways to battle discouragement. I'm praying that this post is an encouragement to someone today. Is there something that's not on either list that you want to add?