We've all heard the terms RELATIONAL MINSITRY and ORGANIC MINISTRY. It's the idea that youth ministry shouldn't be a rigid structure. It should have fluidity, even if that means being a little messy.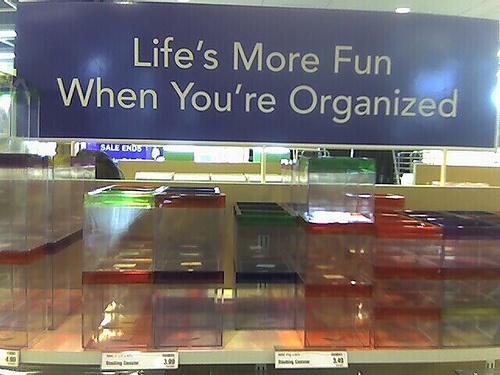 And while youth ministry is messy it doesn't mean you can't be organized. An organized youth ministry allows you take on the challenges that come with relationships. It gives you margin and endurance. To keep your ministry organized you'll need to:
OWN YOUR ENVIRONMENTS
Everything from the top of your desk to the folders on your computer needs order. The more time you spend looking for things, and adjusting your surroundings the more time you waste.
Sounds simple; yet, it's so overlooked. Take time to clear your desk, and empty out your inbox. If you are going on vacation do yourself a favor and make sure you walk back into a clean office. You'll thank yourself.
DELEGATE LIKE IT'S YOUR JOB
There are only a few tasks that you should be doing. It's not that other responsibilities are beneath you, it's just that you only have the capacity for a few things. To make sure you are doing the right things:
Sit down and write out a list of your responsibilities.

Put whatever is most important and only can do at the top.
Take the rest and start handing them out to your team.
By organizing your responsibilities you allow yourself to become more efficient as a leader. If you struggle with delegating, get someone to help you out.
KEEP A CLEAR CALENDAR
Just as you wouldn't drive at night without headlights, you shouldn't go through the week without a calendar. Your calendar is a schedule that allows you best use your time, energy and emotion.
Take time either at the very beginning of the week or at the end of the one before to map out what you have going on. It will give you emotional and physical margin. You'll have less surprises and more confidence on what needs to be done.
Organizing your time, environments and responsibilities take discipline but the payoff is worth it. Find accountability to help you succeed, but remember, that organized ministry leads to peace of mind.
Where do you struggle the most to organize your ministry?