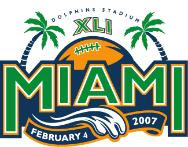 Just to make this official and on the record, I thought it might be good to post one final prediction of the Superbowl tomorrow. Should be a GREAT game, love both teams so this is a perfect matchup. Not to mention the commercials …
Peyton Manning will finally get this Superbowl ring and will be named the Superbowl MVP.

They will show a hundred too many shots of Archie Manning up in the stands flanked by son Eli who is happy-for-his-brother-but-internally-battling-the-football-demons. Rex Grossman will have fallen apart at the seams, the only bright spot is the Bears defense who scores a defensive touchdown early in the first half to keep it interesting. 20-7 Colts win, and the commercials weren't as funny as you thought they would be.
JG