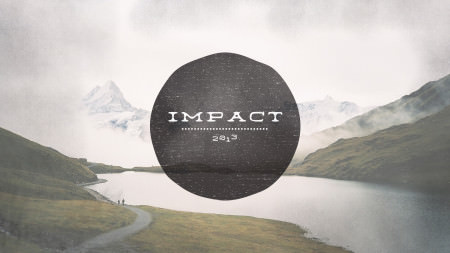 Weekend Teaching Series: IMPACT Weekend (1-off)
Sermon in a Sentence: We emphasize the purpose of serving to our new freshman and our whole student ministry.
Service Length: 55 minutes
Understandable Message: This weekend was all about getting students involved in ministry – we took the name IMPACT from a great project that was started in our junior high ministry that was very effective in getting students into ministry here in the church, in our community and around the world. The message was a little shorter than normal and we hosted a ministry fair where students could walk through booths setup by the various ministries in our church and peruse missions opportunity planned for the upcoming year. That part of it was very similar to the weekend we did last year – and something we'll continue to do on an annual basis in our youth group. The

Element of Fun/Positive Environment: The week we had a shorter service than normal, with very light programming to focus on getting students into the ministry tour outside the auditorium. We did have lots of students greeting, and I added a part of my message where we highlighted students serving even that weekend to encourage other students to get involved!
Music Playlist: 3 Months in California, We Are the Free, Scandal of Grace, Burning Ones
Favorite Moment: LOVE watching the freshman get excited about getting involved. I know there is a direct correlation between evangelism and student involvement I've also seen serving make a huge leap in how students stick for all 4 years of high school.
Up next: Worship Together Weekend: July