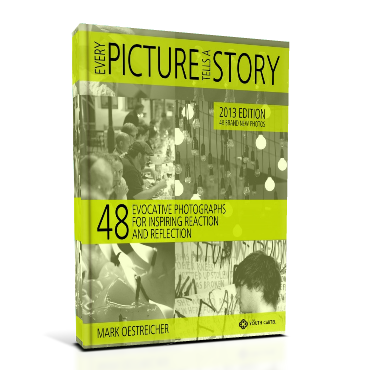 This resource is great on so many levels, it's hard to know where to start with the review. Every Picture tells a story (created by the ever brilliant Mark Oestreicher) is a resource that provides beautiful black-and-white pictures you can use in your youth ministry. There are pictures of people, of teens specifically, but also of situations and 'moments'. In the leader's guide, there are dozens of ideas what to do with the pictures.
The 48 pictures themselves are stunning. Sometimes that I noticed is that they're not very 'American', they're cross-cultural and can be used in ministry settings around the world. And they're well chosen, the photos are very suitable for provoking discussion and introspection. Looking at them, they evoked feelings and thoughts in me right away and I know I will use them for my quiet time to reflect on my walk with God.
The suggestions on how to use them are fairly brilliant as well, though you have to be into the creative, meditative and reflective approach to appreciate them. Some of my favorite suggestions were to use the pictures to help teens identify emotions (which is something they're not good at and this is a very practical way to help them), to let students write their own parables and to use the pictures to see God at work in their lives (which is a great tool to use with the awareness questions!). And I think they would work well with adults as well actually, I'm taking this for a test drive next week as I lead our church small group.
All in all this resource fits well into a contemplative approach and inspires many creative methods to let students think about their life, their faith and their walk with God. If you're interested, don't wait too long with buying because for a limited time you get the original version of this resource for free, giving you a lot of extra pics to work with!
Disclaimer: Yes, I got this resource for free in exchange for an honest review and yes, I do work together with the Youth Cartel on Open Paris and some other stuff. That doesn't mean my review is biased though, if I hadn't liked it, believe me, I'd have made it clear 🙂