We want to do everything we can to save you time to focus on what's most important in your ministry: the people!
We do that by giving our DYM Members turn-key resources that can be adapted to their unique ministry context quickly and easily.
But we realize that it's tough to "download" everything you need to do ministry. In fact, you use tools to help you do ministry everyday: presentation tools like ProPresenter to run your programs, word processing and design tools to put together effective promotional materials, communication tools to send those materials out…the list goes on.
What if we told you that DYM has created some tools specifically for youth workers to help you accomplish the very same things even more effectively?
Imagine…
A ProPresenter sidekick with youth ministry games, countdowns and other programming elements INCLUDED…
A tool built for youth workers to create beautiful email newsletters in minutes to share with anyone. With dozens of helpful articles for parents and volunteers INCLUDED…
Usually when something sounds too good to be true, it is.
But this is one of those rare "good AND true" moments.
Enter: DYM Games

TM
Your new creative programming sidekick—allowing you to build and present engaging, reusable and customizable games that are ready in minutes and good for groups of all sizes (from 5 to 5,000). You will have access to a growing digital library of games to customize. And, this is all easily-operated from your computer!
Learn More and Try it for FREE.
DYM Newsletter

TM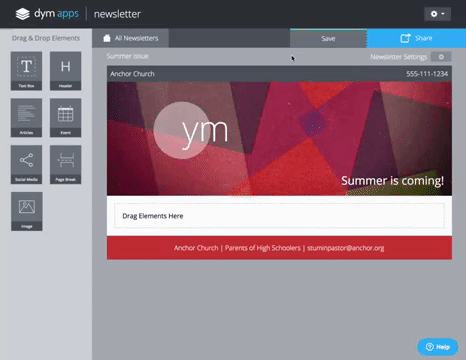 Get the right information to the right people in the midst of constantly changing details. Create a simple yet beautiful newsletter in seconds to share with anyone. The newsletter lives online and is completely editable, accessible and shareable until you decide to remove it.
Don't forget your DYM Gold Membership also includes:
$20 store credit—EVERY MONTH you get your money back to use on anything you want in the DYM Store…no joke…that's worth the price of membership right there!
SIX NEW downloadable resources: a game, a video, a 10-minute video volunteer training, a 20-minute audio mentoring file, curriculum to develop Student Leaders, AND a bonus mystery item.

Become a DYM Gold Yearly Member anytime in the month of January and, in addition to all of the amazing things listed above, you'll be entered to win one of three INCREDIBLE prizes in our Gold Rush 2017 contest:
1st Prize – A FREE Registration to DYM100. You'll be the first to be officially registered for this exclusive event. No need to panic about getting one of only 100 spots available—yours will be guaranteed! What is DYM100? Learn more. It's definitely one youth ministry event you won't want to miss!
2nd Prize – $250 in DYM Store Credit. Who doesn't love free money?
3rd Prize – Stolen from Doug's office. T-Shirts, coffee mugs, framed family photos…we'll steal you something good.