For over 2 years Jim Burns and I have been working to bring a one-of-a-kind certificate in youth ministry. There's nothing out there just like this!
We've assembled some of the finest minds in youth ministry to bring together an amazing amount of youth ministry training at an unbelievable price!


Actually, we're making the price even more unbelievable for the next two days with a "new-release-launch" 20% discount (for the next 48 hours, use promo code (at checkout): "dfieldsys20"
So, what is it?
It's a complete online training. Study at your own pace–take your time or power thru it! Endorsed and validated by Azusa Pacific University, the overview of the 12 courses include: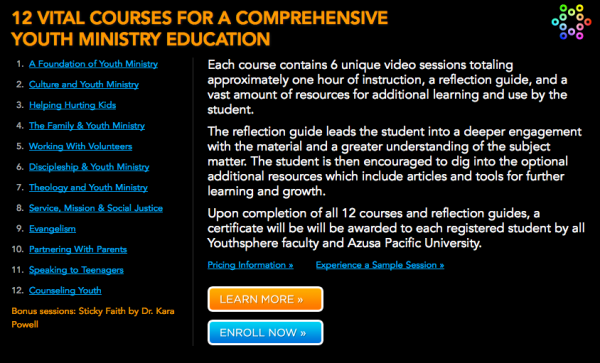 There are so many moving parts to this new certificate that it would serve you well to poke around on the site if you're interested.
Go here to get your FAQ answered.
If you like to study, think, learn youth ministry, and interact with other youth workers…this may be a great opportunity for you. I was blown away by the teaching that these youth ministry veterans brought to the table. I learned a lot!
If you complete the process, this is a sample of what the certificate looks like: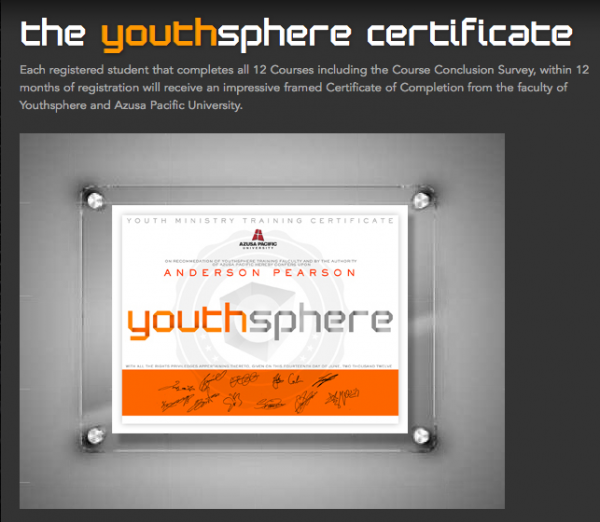 Once again: click here to go to the Youthsphere site.
48 hours only…here's the code for a 20% discount: "dfieldsys20"
Question: What questions do you have? Share them here and I'll try to answer quickly.