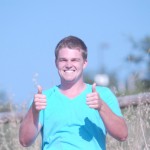 My heart is filled with joy and loss as my 19 year old son leaves today to spend 7 months in Kenya, Africa. After experiencing one incredible semester at Azusa Pacific University (and loving every day of it), he's following the whisper of Jesus calling him to do something radical. As I write this, a dozen of his APU buddies drove down to pray-him-goodbye (APU has been incredible for him!).
Surrounded by a community of friends, Cody raised all the needed support to fund this life-changing mission. He'll be working with hundreds of orphan children who live on the streets, sniff glue (to stay warm and alleviate the hunger), and wander the streets looking for hope. So many ministry opportunities!
This is his 4th trip to Africa and continues to be drawn to those in need of help. He's not alone, so many of his buddies bleed compassion. I continue to be amazed by this
generation of teenagers. As research continues to promote the sad news that the church and youth ministry is failing, I'm thrilled to see so many real-life examples of kids sincerely following Jesus.
1. If you think about Cody…pray for his ministry.

2. If you would like to go to Africa with me on an "exploratory trip" (with the intention of taking some of your teenagers on a future trip) send me an email ([email protected]) and I'll compile a list of interested people. I'm not sure when I'll be going, but I want to expose youth workers to this unbelievable setting and opportunity for serving (we've been taking teenagers there for years).

3. Africa is a big-step, but if you want an easier first-step to develop the leadership and hearts of your students, consider joining us this summer at our student leadership conference at APU…it's going to be awesome!

4. If you're a parent and/or youth worker, don't lose hope, the church may be struggling to retain young people… but the bride of Christ will prevail.

5. If you think about me…pray for my loss. I am going to miss my son/best-buddy/friend so much.
Since I'm new to blogging and have a lot to learn…I'm thinking this may be too personal and not that helpful. Oh well, it's me, my family, and big on my heart right now…