Parents!
What an amazing and packed week up here at HSM Summer Camp. It was filled with friendships, spiritual challenges, hilarious games, epic music and surprisingly good camp food. Phil Wickham stopped by for a concert, we danced the night away with DJ Promote and we slid down the largest inflatable water slide this side of the Mississippi!
I wanted to share some highlights with you – we've been enjoying the campus of Grand Canyon University in Phoenix, AZ all week centering on the theme This Changes Everything. Our speakers were Brad Tate (your teenager might call him "the one with dreadlocks"), Jodi Hickerson (aka the freestyle rapper) and Matt Reagan (the guy who said "brotha and ya'll" too much). HSM's own Cluster of Students band led us in worship and did an amazing job helping us respond to the message with heart and voice.
A few more highlights:
· Many students were baptized!
· The Mongolian BBQ had the longest lines of all the food services. Worth the wait!
· It was hot. Arizona even set a new all-time record this past Wednesday. Lovely.
· The bus ride was long, but loads of fun, too.
· The Chic-Fil-A was closed. Boooooooooooo.
· A ton of students made decisions for salvation, repentance, full-time Christian work and more!
· The Kingdom Worker sealed challenge cards were a huge hit again this year. Apparently God wants me to serve in the nursery!
I hope you'll get a chance to come to services this weekend and sing the songs and hear the stories from HSM Summer Camp – come to the 6pm Saturday night, it should be so over the top. We've got about a dozen more baptisms to celebrate tomorrow night and cake for everyone, too!
I hope you'll also take some time to talk more about camp and the decisions they made before they jump back into their Instagram world. I can't wait for you to hear their stories and share their decisions with you.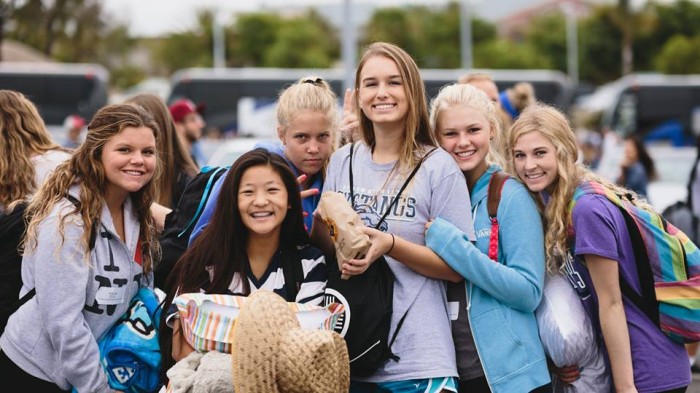 Here are a few things you could talk about, a few questions to get you started:
Who was your counselor? What did you learn from him/her?
Did you make any new friends? Tell me about them!
Tell me about the "word bubble" they did in the night session. What words did you write down on your bubble? How did you feel when you threw it away? What words did your leader write down for you?
Did you make any spiritual decisions this week?
What song was the most meaningful to you? Why?
What made you laugh? What made you cry?
On a scale of 1 to 10, how good was the food at camp?
What did your Kingdom Worker challenge card say? What next steps do you want to take from here?
How are you going to follow-through on the decisions you made?
Did you miss me?
Well, there's 358 days until HSM Summer Camp 2015. We want to use the GCU stadium and are hoping to take a kajillion students and leaders next year because God moves in major ways at summer camp. Thanks for your prayers, for trusting us and for sending your student to HSM Summer Camp. It is such a worthy investment and sacrifice. We're trusting God the decisions made will last for a lifetime.
Blessings,
Josh Griffin & the HSM Team
High School Ministry | Saddleback Church
PS: If you missed the daily highlight videos, be sure to check them out here: http://www.youtube.com/highschoolministry and the final week-long compilation will debut in service tomorrow night. See you at the Refinery at 6pm!