Yesterday I went to visit one of my favorite groups at church—they're called "The Stuffers." The Stuffers are a group of senior citizens (age 70-90's) who meet on Friday morning to stuff the weekend bulletin and do any other type of "busy work" that the church needs.

Prior to her death in January my mom was a regular part of this group. My mom loved being there each week because they're a lovely, caring group of people. I would drop my mom off at the group, walk in, give hugs, get love and appreciation and leave inspired.
As my mom was dying, this group was so tender and gracious. They displayed their understanding of eternity and how near they each are. They were the teachers and I was the student.
When I came to visit yesterday they had a surprise for me. They knew my son Cody was in Africa and they took an offering for him ($262), had a Oswald Chambers devotional that they inscribed, and letters they had written to him. Most of these people have never met Cody but "knew him" from his bragging grandma.
As for me, they presented me with the certificate below and bestowed upon me an honorary member of the Stuffer's Group. What an honor!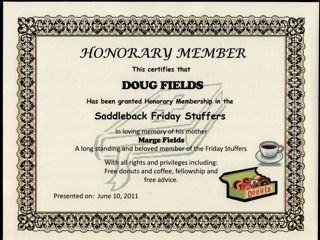 This group of saints have taught me a lot! They are so loving. They obviously have a different pace of life that they live and their emphasis on people is so refreshing.
When I was a full-time youth pastor, I would walk around this group asking who was ready to join me on the youth ministry team. I wasn't very successful, but the few who joined our youth ministry team were incredible assets. These fine folks help represent the diversity within the body of Christ.
Question: Who are the people within your church body who might not "fit" the stereotypical youth worker profile who you should be inviting to join your team? My bet is that you and your teenager will learn a lot.