GUEST POST: Adam McLane is a lifelong student of youth ministry, a veteran youth pastor, and mentor to an ever-expanding web of students and adults. Adam is a partner in The Youth Cartel, a full-service consulting firm specializing in helping churches, businesses and ministries connect with teenagers, young adults, and youth workers.
"You have a horrible job. You go to work early and come home late. You rush around everywhere. And when you are home there are always people coming over at all hours. You have a beautiful yard, too bad you never get to enjoy it. I don't know what kind of church you work at but I'd never want to be a part of something like that. My life is way better than that."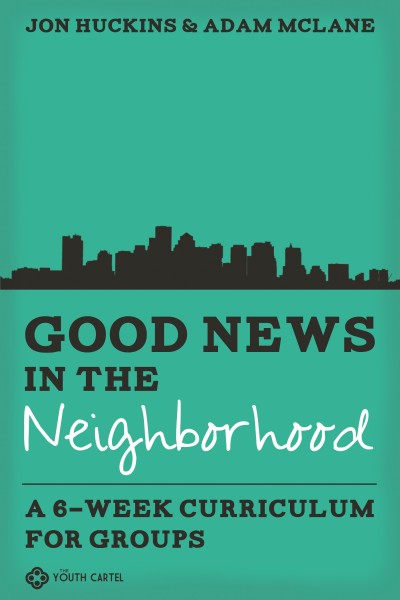 Talk about letting the air out of the balloon. I'd spent a couple years waving and trying to make small talk with my next door neighbor and this is the first serious conversation we ever had.
Of course he was right. If all he knew about my family was what he observed through his kitchen window his synopsis was dead on. Everything he said was true. I was working like crazy at the church, but in three years, had done little more than shake my neighbors' hands and exchange names.
Simply put, my life wasn't Good News to him. In fact, as he so clearly articulated, the way I lived was pushing him further away from God. I've read tons of books on evangelism and apologetics and let me state the obvious: Nothing I could say was going to draw this neighbor closer to God because I was living in a way he didn't want to have anything to do with.
His prophetic words were a tough pill to swallow. But it was the truth. If I wanted to make an impact on my neighborhood I was going to need to change how I lived before my neighbors.
That experience lead to a number of difficult reflections:
•My students aren't inviting their peers because I'm not inviting my peers.
•I tell my students to get to know people outside of the youth group, yet my entire life revolves around serving the people who go to my church.
•I believe God placed me in my neighborhood on purpose but I don't live like it.
•Empirically, I know that in a post-Christian society what I do validates what I say, but I don't live like it.
•I believe God wants me to be Good News in my community as a physical representation of the Gospel of Jesus Christ.
That conversation and those reflections changed the course of my life. Since that time our family has gradually (and sometimes radically) reoriented our lives around the neighborhood God has placed us in. We now know our neighbors. More than their names, we know bits and pieces of their stories. We serve them and are served by them. And as we've lived before them as Good News conversations of the Good News flow naturally.
From the outside, it probably looks like this process of becoming Good News in the Neighborhood is an evangelism strategy. And if that means you'll try it… call it what you want! What we've discovered is that orienting our lives in such a way brings life and renewal to our neighborhood in ways far beyond our eternal destiny. We've seen Jesus work through our family to make the here-and-now better.

A special offer: This Spring, Jon Huckins (NieuCommunities & author of Thin Places and Teaching Through the Art of Storytelling). and I wrote a 6-week curriculum for groups called, Good News in the Neighborhood. It's six Bible studies and six experiments that will get your students out of the classroom and taking first steps in their neighborhoods. If you buy it before June 1st you'll save $10 with coupon code DOUGROCKS. Click here
Note from Doug: I love this product! Jon and Adam do a great job at engaging students (and adults) to think a little different about "being" the Good News and evangelism. I really believe we're going to be hearing some exciting results as youth workers engage their students with this curriculum. I'm THRILLED to endorse it.
Question: Ask Adam specific questions about this product… he'll answer them. Ask here.