This past weekend we played an old classic but played it with a new twist. We have discovered that students love to re-claim old things and make it their own so we thought we would give BINGO a try. Let me just say, it went way better than expected. We had more students stay after service to play the game than expected and let's just say they were really into it. The energy was high, students were screaming with joy and pain as they either got to stay in the game or they were out for that round.
We had free snacks and drinks available out on the patio after the service. We excused everyone out of the service so we can set up the stage inside. Once we were set up, we had a quick meeting with the leaders to let them know how the game worked and how they can help us out. Then we let everyone in, music playing and explained the rules to all the students of how Extreme Bingo would play out. It. Went. Awesome.
Here are the basics to the game of Extreme Bingo:
As students entered the room, they were given one card and a pen. We played 7 games and once one game was over, leaders would go around and pass out new cards to everyone during a 2 minute break.
Colton and I co-hosted the event. I would pull the numbers and Colton would interview the crowd and get them going. We played off of each other really well and tried to keep the energy high by constantly interacting with the crowd.
Each game, the prize would be bigger. The prize order went: sloth t-shirt, $50 Starbucks card, Beats by Dre headphones, AppleTV, iPad Mini, a free trip to our HSM Winter Retreat and XBOX1. When someone had BINGO we would call them up and Colton would interview them while I checked their numbers.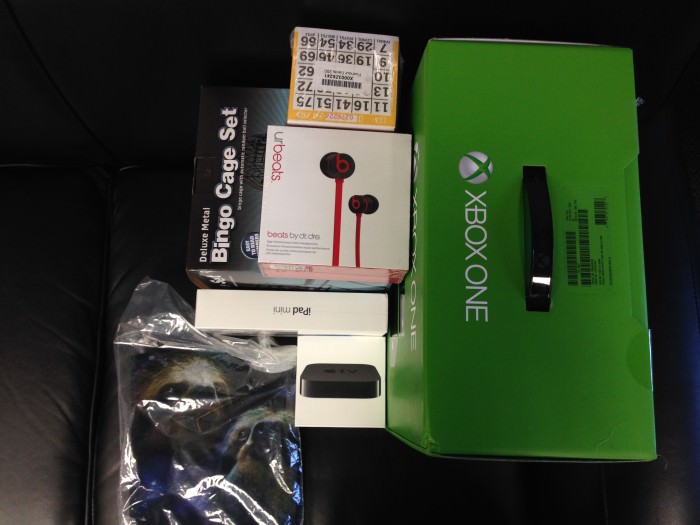 For the most part, it's regular bingo. Spin the wheel, pull the number, read it out, mark it if you have it.
Here is the EXTREME part, every 5 pulls of a number, we would spin the "Wheel of Misfortune". Each slot had a different scenerio on it and it would elimate groups of people at a time. We made extra slots so if a class or a school kept getting landed on, we would switch it out for something else. (You can make it specific to your group really easy).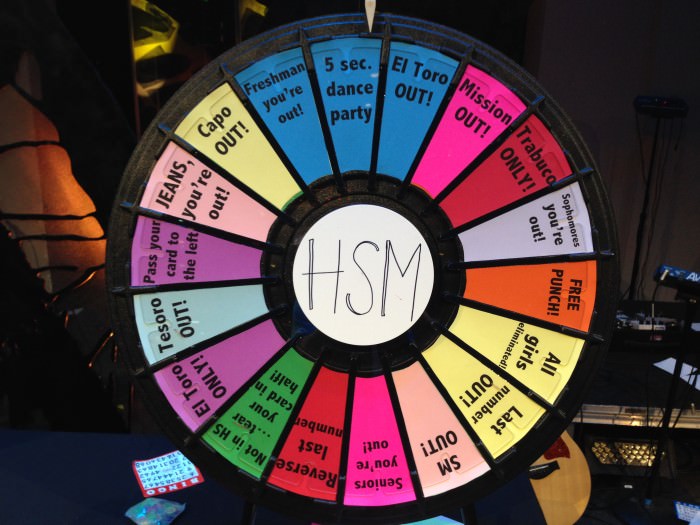 After a few games the number of pulls of the numbers would lesson, so we would spin the wheel after 4 times, then 3, then the last one 2. It was hilarious as students got out how into it they were. It was so fun. They would scream and throw their cards and would watch until someone would win. It was pandemonium, but it was so good.
When the wheel landed on a section and it caused the students to get out or eliminated, they would simple throw their card on the ground and they would be out for the rest of that round. They would be able to get a new card after that particular and be in for the next game for a chance to win the next prize. So if you got out in one game, you still can play in the remaining rounds.
I think some of my favorite "Misfortunes" where: 5 Second dance party, who ever got the last number had to go to the basketball court and make a free throw before coming back in while the game was still going on, pass your card to the left and we even had one where it had to be a "silent round" where no one was allowed to make a noise or your card would be ripped in half. So fun. It was awesome to see students actually getting into it and participating.
To be honest with you, that's about it. It was such a fun but easy idea to pull off and it went over so well. We sped through the rounds and we got done in about an hour or so.
It was so fun for our leaders to get together with students, students getting really into it and being really passionate and just great to have fun after a service and hang out and play an old classic game with a twist that made it interesting. We feel like it was a huge success and we are already talking about how we can make it better for next time. If you want to try it, I recommend it because it was such a great way for students to bring their friends to service and then get to hang out for a fun event afterwards.
If you have any other questions about the game (because I was not specific enough for you, sorry I tried) leave a comment for all to see and I'll do my best to answer it for you. Overall, really easy, really simple, really fun and really easy to make it your own and have fun with your group.
[/fusion_builder_column][/fusion_builder_row][/fusion_builder_container]