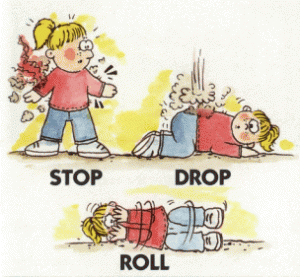 Do you remember the instructions you got in elementary school about catching on fire?
As much as we talked about that I really thought I'd be busting into flames a lot more often in my life.
On a drastically different note, the other day we were having our MS Christmas party. I was running around trying to get things set up and ready. A few students showed up early (happens at every event ever).
So as I was running around, there were about five to six students who were goofing off and playing around.
One of the students told me about a surgery that was upcoming. I knew about it and so just asked how they were feeling about it.
"I'm kinda nervous. I don't like surgery."
My reply was to just say, "You'll be fine!"
"You'll be fine!?"
Seriously?
Youth ministry fail.
That was my moment to stop, drop what I was doing, and pray with that student who was nervous about an upcoming surgery. Instead I kept rushing around trying to get everything ready for…ministry?
In doing that, I forgot one very important part of ministering to students: praying with them in their time of need.
Don't miss opportunities. When a student shares something with you, stop, drop what you're doing, and pray with them right there.
That other stuff can wait.
Ronald Long has been the youth minister for FBC Lexington, TN for six years. He's married to Bekah and dad to Sophie and Penny. He blogs a bit at ronaldlong.org and tweets at @ronald_long. He also runs, plays video games, and eats Taco Bell. Check out his resources in the Download Youth Ministry store!