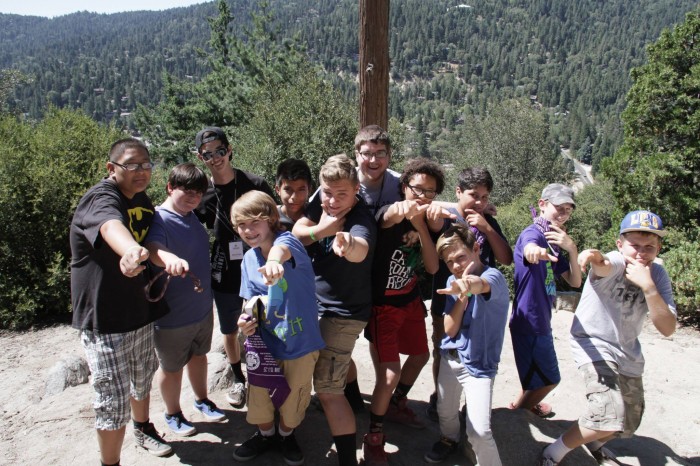 Cabin times: confusing and frustrating youth workers since 1847*. We are told that cabin times are where the "real" ministry happens at camp: the band and the speaker will get students pumped for Jesus, but those late-night group discussions with their counselors will seal the deal.
*This statistic is not supported by science.
This kind of thinking is based in a lot of truth, but it can also create anxiety, undue pressure, and feelings of inadequacy for the counselor when his or her cabin time falls short of powerful expectations.
We just returned from middle school summer camp, where I was reminded again of the challenges of leading a "successful" cabin time. (In a minute I'll explain why I put successful in quotes.) Thankfully, we brought along some incredible volunteers who were able to share their cabin time experiences and teach me a thing or two about making the most of group discussions at camp.
Here are some of the tips and trips I picked up last week and in previous years while reflecting on my cabin time successes and failures.
Remember that there is no definition of a successful cabin time. You may find yourself frustrated more often than inspired during your cabin time. That's OK. Even Jesus had trouble getting his group of twelve to focus, and he was spending time with them 24/7. Remember the words of Jesus: "For where two or three gather in my name, there am I with them" (Matt. 18:20). Jesus is working in the hearts of your students, even if you can't see it. Therefore, enter cabin time with a sincere and prayerful heart and great stuff will happen— it just might be more subtle than an outburst of repressed emotion or a student giving his or her life to Christ.
It's not about you. It really isn't. It's about God using you and a bunch of other people to bring students closer to him. Even if a student doesn't open up to you in cabin time, there are so many other opportunities for them to really experience God at camp. And just because they don't open up doesn't mean they aren't getting anything from the cabin time discussion. So ask God to help you take the pressure off yourself. On the day before camp, pray something like, "God, let your impact in my cabin group be as if I weren't even there." Take yourself out of the equation so that God may bring you into his process in ways you would never expect or imagine.
Share your story. This was something my co-leader and I tried last week at camp. During our second evening cabin time, he opened the discussion by sharing his testimony, and there was an immediate change in the temperament of the group. Suddenly, our students' perception of him went from a leader who had everything figured out to a fellow human being who was struggling through his journey with Christ along with them. Before I could share my story, a student raised his hand and asked if he could share his. After he went, another asked to share. And then another. Suddenly, students were opening up about their past and their family life. I had never seen anything like it. By the end of the week, almost all of our cabin students had shared their stories with the group. And it all started when one of their leaders, a high school senior, opened up about his life.
Let them lead. A few years ago, I led a cabin group of eight high school juniors who had been following Jesus since they were kids. It was like pulling teeth getting them to talk about anything. On the final night of camp, I tried something different. It may have been a Hail Mary after three days of silence; I don't quite remember what was going on in my mind. But I opened up cabin time by saying, "Tonight, you guys will be leading the discussion. I'm going to stay with you and participate, but I'm not going to ask any questions." A few awkward seconds passed. Then, one of the juniors turned to the others and said, "OK. What did you guys get out of tonight's message?" What followed was the best cabin time we had had all week long, even though it was the one I had guided the least. This tactic of letting them lead might not work with a younger group, but don't be afraid to delegate leadership to your students.
Remember that cabin time isn't everything. Sure, some of the most powerful stuff at camp can happen during cabin times. But the buck doesn't stop there. You may find that an impromptu, one-on-one discussion with a student during free time is just the interaction they needed. Maybe you'll have a couple students who don't especially connect with you throughout the week, but they really connect with the camp speaker's messages and experience true life change during chapel. Understand the importance of cabin time but don't exaggerate it. Keep a humble heart, ask God for excess amounts of patience, and trust that Jesus is there among you, guiding each and every student exactly where he or she needs to go.
Taylor Bird is the Middle School Pastor at Southwest Church in Indian Wells, CA. He has been serving in youth ministry for five years.