For the second Friday in a row (and there's only been two since I've been blogging) I've got another FREE FRIDAY. This time it's brought to you by the people at BlueFishTV.
[Here's how it works: when I get something free, I'll get an additional copy and give it away to a commenter on my blog—although, this week 2 people win.]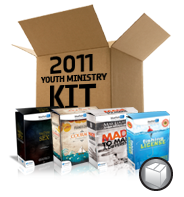 Here's the freebee: 2011 Youth Ministry Video Kit w/ Max Lucado, Francis Chan, and myself.
This is a $235 product. It's three, four-part series. Each series includes 4 DVDs, 56-page Leader's Guide, Printable Handouts, and Free Downloadable video illustrations for your students. The video-based Bible study also includes a Bluefish TV Fishing License where you can choose and download 25 FREE Video illustrations from our library of over 800 clips.
And the two winners are: Brenda Ojeda & Jerry Webb (thanks for chiming in this week with your comments.)
In addition to this specific youth ministry kit, there are several other video series that have great quality and are easy to use. I did one on conflict, or search my name on their site and grab several different individual videos that I've been apart of making.
I first discovered BlueFishTV when I was highly dependent on their humor videos for my weekly programming. Now, I will often use one of their video illustrations during my teaching time.
Hopefully FREE FRIDAY will return next week!