Guest Post: Darren is a veteran youth pastor serving in Texas. He's the author of 2 Sides and a brand new book, Everyone's Called to Youth Ministry. He and his wife, Katie, mentor and train youth pastors and parents through Millennial Influence. You can connect with Darren on Twitter, Facebook, or his blog.
They're everywhere…and usually hiding in plain sight!! Adults that God has called to reach teenagers…they just don't know it yet! I found some hidden gems hanging out at my church!
Luberta: Age 86 – widowed – active member in the Keenagers group (She's the lady in the white pants – it was her idea to take the photo like we were all under arrest.)
Pat: Age 70 – widowed – lost her husband to suicide (She's the lady measuring the wooden plank, after spending the night on the floor on a mission trip in Mexico.)
Pete: Age 52 – married – had a great experience as a college student with Young Life before walking away from his faith for nearly 20 years (Pete's the only guy who knew we needed hiking boots…the rest of us wore flip-flops…and most of the guys in this photo were in his small group before they graduated.)
Danny & Lara: married 30-somethings – new found faith in Christ after nearly divorcing (They're the ones making out…it's OK, it wasn't a youth event.)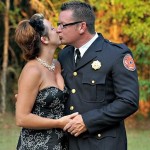 Andrew: Age 20 – single – college junior (He was our resident 'bearded one' and all-knowing technological guru!)
The common denominator? They were all called to youth ministry…and had no idea.
I believe every single person in your church brings something to the youth ministry table! It's up to you to help them figure out what it is!! It really is the highest calling in student ministry – helping someone else find their passion and calling for teenagers.
So take a look around this Sunday. The blue hairs, the no hairs, the long hairs, the facial hairs – they all have something to offer. Do you see it??? Everyone's Called to Youth Ministry…They Just Don't Know It Yet!! You can get your copy here
Question: So tell me – who was the most surprising leader you've ever enlisted?? I'm looking forward to your stories!! Share them here.