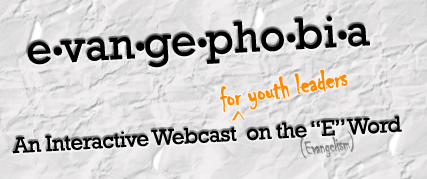 A few times a year I have the opportunity and privilege to spend time with Greg Steir. Greg is a Wildman! He's one of the smartest, most enthusiastic, and passionate people I know. Every time I'm with him, I walk away wanting to be different. There have also been a few times when I've simply wanted to walk away (just kidding…well, kinda).
I think it's safe to say that Greg pretty much sings one song—evangelism. He sings in a strong, compelling and attractive way. He can "perform" in variety of styles and is always looking for new ways to get the lyrics into the hearts of those of us who work with teenagers. I'm excited that Greg has landed on another one—a 1 hour web-training.
On May 17, he will be hosting "Evangephobia" and talk about why most of us (and therefore the students we are called to disciple) are fearful of evangelism. I will be watching, learning, and taking notes.
If you're familiar with Greg, this is a no-brainer. If not, I would encourage you to give him a try. He has an amazing heart, an incredible ministry, and depth of character that points directly back to Jesus.
Here's all the information you need:
On May 17th Greg is doing a web-based training for youth leaders called "Evangephobia." This is not so much for youth leaders who have been to Dare2Share so much as it is for those who aren't familiar with Dare2share or a little freaked out by the "E" word. Encourage your youth ministry friends to sign up for this FREE one hour training. To sign up go to www.dare2share.org/evangephobia.
Here's just one product that Greg has created for youth ministry:
If you want to know more about Greg, here's my 4.5 leadership question interview that I did with Greg back in February.