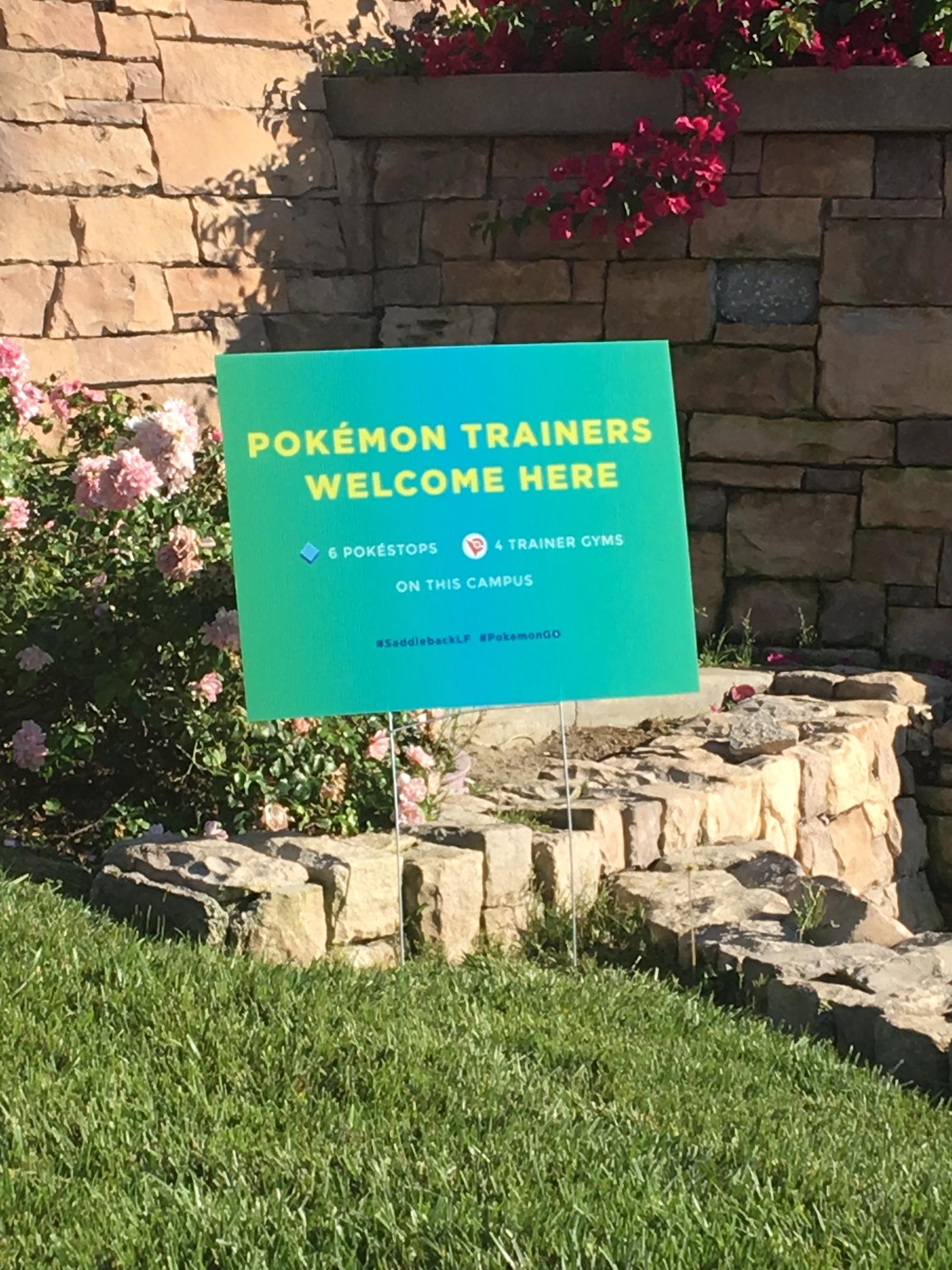 A ton of places of worship are Pokemon "stops" or "gyms" from the incredibly popular new Pokemon Go app. It is easily the videogame sensation of the year! It also presents an incredibly unique opportunity for many churches to embrace the floods of people swinging by their property to play the game.
I saw one church literally evolve over the first week of the game, finally putting a chain across their driveway. What misplaced passion! And a totally missed opportunity! Here is part of an email my church sent out this week, which I LOVE, and a pciture from one of the signs as you enter the church this weekend. So cool!
Many of you are aware that there is a cultural phenomenon that is sweeping the nation and it's called Pokémon GO. In just a few days, Pokémon GO has overtaken SnapChat, Instagram, and Twitter with over 20 million daily active users. It's also seeing more engagement than Facebook!
The good thing about this new social experience is that it's driving traffic to churches. Marketers are salivating trying to figure out how to leverage this opportunity while church campuses around the country are organically benefiting from extra foot traffic.
If you're still wondering about this, here's an article on MinistryTech.com. There's a great video (that already has 30 million views) that gives a quick overview on what this is all about.
Since we have already seen players on our campuses, we are testing out a few things this weekend to leverage this phenomenon to serve the Pokémon GO community with a great experience and welcome them to our church. We want to be ready!
Here's some guidance for this weekend:
Welcome and host all of our new guests: Help make all our guests feel welcome on campus while they are hunting for Pokémon. Please take a sec and familiarize yourself with the culture. Click HEREto watch a short tutorial. The best way to serve them with a great experience is know how to engage in conversation about what they are into. My team has prepared a document (attached) to help you speak the Pokémon language.
Speak their language: Also attached is a list of commonly used Pokémon lingo. Most of the gamers love chatting while they are playing, especially if you are talking about Pokémon. Ask them if they're finding any rare Pokémon. Or, what team they are on if they're near a Pokémon Gym.
Show them around:Several Saddleback campuses have "Pokéstops." Attached is a map for the Lake Forest Campus. Learn your campus and the identify areas of interest for Pokémon Go users.
Serve NOT Sell: Take this opportunity to serve our new guests with a great experience (i.e. water, charging stations, etc). Do not look for ways to promote your ministry or agenda. A great, friendly, welcoming experience will communicate more about this church than a flyer or billboard. Several ministries have already stepped up to serve peopleplaying the game on our campus, and as a result we've had dozens of visitors on our campuses this week. If you have an idea to utilize this wave as part of a ministry event, contactNebai Cherrick for promotional questions or Rommel Manio for experience questions.
After we test the waters this weekend, we will see if this is a something that we should invest more resources into.
Catch 'em all!
JG