In my 9.5 months of blogging I've never done a post like this where I get all giggly over a product.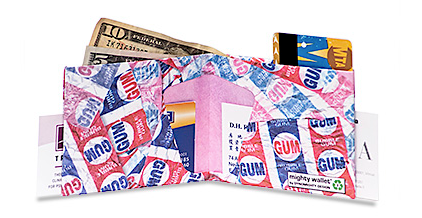 Even after I wrote this post I almost deleted it because I thought, "This could be stupid." But then I thought about how much I love my Mighty Wallet and I'm going for it. You may not like gimmicky type stuff and that's okay (it's only 1 out of 200+ posts), but most people I know like fun, creative finds.
Here's five reasons I love my wallet:
1. It's real cheap (only $15)

2. It's unique (dozens of different styles to choose from)

3. It holds a lot of stuff!

4. It can be personalized.

5. It becomes an easy medium for starting conversations.
All of those are values to me. I'll break those down a little more:
1. Cheap: Like the next person, I like a great deal (that's why I sell my books so cheap…I know you like a deal too
[insert shameless plug music]). I think
Dave Ramsey
would approve of this expense.
2. Unique: look for yourself (there are dozens to choose from)
3. Stuff: I don't like bulky wallets, but since I can't seem to get rid of stuff that I want in my wallet, this is super expandable and yet still feels thin.
4. Personalized: Look at the video (see below) and the amazing creativity of people creating their own look. I wish I could do that kind of stuff.
5. Conversations: I used to have a duct-tape wallet that a teenager made me and everyone commented on it. I'd say, "I'm a youth pastor and a high schooler made it for me." This would lead to good conversations. The same has been true with the Might Wallet (feels like a theme song should appear). People ask me about it all the time (I currently have this one–for sentimental reasons)
[if this video doesn't appear in your RSS feed,
go here
]
So if you buy one and happen to be at one of our two Youth Specialties Conventions this fall… show me which one you chose. I know what you're thinking: "Does Doug's brother own this company?" Nope! I don't even have a brother. I wish I got some kickback…nope…nothing…just the satisfaction of providing great stuff for my blog friends.
Question: What's a quirky thing you own that you're excited enough about to share with others? Include links if possible.
Are you getting this daily blog in your email inbox? Real easy–go here.