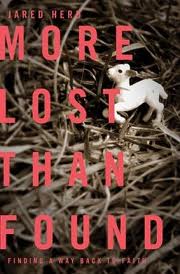 Jared Herd has put into words what many 20 and 30 somethings feel in his book More Lost Than Found
. There's a disconnection with how faith, how Christianity is experienced, is lived out. He describes a 'fishbowl effect', where church and life are separated, where church and culture are at odds and where Christianity is more comfortable providing scripted answers than real faith.
It's not a pretty picture and many of Herd's observations and reflections hurt deep inside. He touches on some very real problems and issues in the church, like this:
"So is the problem Jesus? Or is the problem how we have been told to think about Him?"
Herd's heart-felt appeal is to embrace the messy reality of life, of our culture and of faith. We're to be 'drip artists' he says, not 'sketch artists'. It's just one of the imaginative pictures he uses to get his point across.
It's both an easy read and a hard read, this book. It's easy because Herd writes attractively, if somewhat unstructured and rambling at points. The book could have benefitted from a more defined central message for sure. But it's also a hard read, because much of what he says is true, but is far easier to diagnose than to heal and 'fix'.
For youth workers, there's familiar material in More Lost Than Found
, for instance the short overview of the birth of 'adolescence' in the first chapter. But there are also reflections in there that may help you understand your students and young adults better and that may help you change the way you teach, or talk about faith.
Especially if you're not familiar with the topics this book talks about, I'd recommend reading it. If you are, you won't find much news in there except for some personal stories and observations.
(This book was provided to me by BookSneeze in exchange for an honest review)