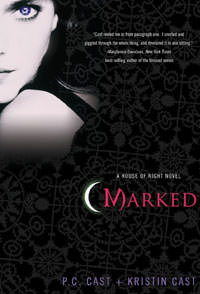 There are books in the top 100 of teen fiction where you can debate whether you should recommend them to teens or not and there are books where the case is crystal clear. The House of Night Series
falls into the second category and the answer is a resounding no. There is a lot wrong with these books, but let me start by giving a very brief plot summary.
The House of Night books (so far ten books have been released with two more planned) are about Zoey Redbird, a 16 year old who is 'marked' as a fledgling vampyre when the first book Marked starts. She moves into the House of Nights, a boarding school for vampyres. There Zoey makes friends, but also enemies and it turns out that the head mistress of the school is her biggest enemy.
My problem with these books has nothing to do with the vampyre element (the word is spelled with an y throughout the books). I have two big problems. The first is religion and the second is sex. The vampyre society has their own religion, a worship of the goddess Nyx and the rituals for Nyx are described in much detail.
Author P.C. Nast (which is a mother-daughter collaboration) describes the religious setting in the House of Night series as follows: "The foundation of our vampire world is matriarchal, which, as far as I know, hasn't been done before. It's heavily pagan and Wiccan based, with a huge influx of Native American myth and legend. You flop all that down in the middle of the Bible belt and that scares them." (source)
The latter refers to the setting of the book in Oklahoma and the countless occurrences of the 'People of the Faith', a Christian denomination that is describes as homophobic, anti-vampyre, intolerant, etc. In short: fundamentalist Christianity is mocked and ridiculed, pagan religion is promoted. That would be one very good reason to not recommend these books to teens.
The second is sex. I have read the first three books in the series because I don't like basing my opinion on just one book in a series. But really, the sexual references make me sad.
Zoey has not one, not two, but three boyfriends in the third book. One of them is her teacher and she loses her virginity to him. Seriously? So it turns out he's using her and he dies shortly afterwards, but it still made me angry. The rationale this teacher uses for her relationship ('you're really special and we love each other, how can this be wrong') is never refuted.
Aside from these two big issues, I personally had another problem with the books. I thought they were boring. The story is really drawn out, the characters are stereotypes and Zoey got on my nerves with her indecisiveness.
I guess my point is clear: this a not a series you should recommend to your teens.