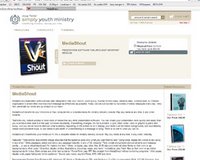 Are you a geek? Do you know style? Are you interested in helping beta test the new Simply Youth Ministry website?
The new SYM website is up and running on our top secret servers in Greenland and this weekend we want 9 people who are detail-oriented to look for style and content problems so we have someone to blame other than ourselves when we launch. Are you interested? You can't just be a random person who just wants to get a sneak peak, you've got to be someone with an intensely critical eye but can deliver said criticism with grace.
Is that you? Leave a comment with your email and I'll contact a few of you Friday afternoon, we'd need your feedback by 9AM Pacific time Monday morning. Thanks!
JG