This week in the Newport Beach Independent, there was an article about Jim Burns and his legacy of youth ministry that I've been privileged to be part of. Here's part of the article: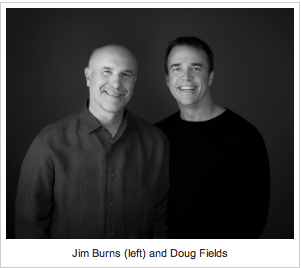 Instead of thinking about what we can change in our own lives; what if we resolved to help someone else?

"When I was 16 years old, a man named John Watson tapped me on the shoulder and said, 'I believe in you,'" explained Jim Burns, founder of HomeWord Center for Youth and Family. "He showed me how to love God. I was one of those kids who didn't have the strongest family background. He was inspiring and it was life changing. He gave me a legacy."

"After getting married and finishing graduate school, I worked at a church and John was my supervisor," Jim continued. "One day at that church I met a young eighth-grade boy named Doug Fields, and a relationship developed between us. I tapped him on the shoulder and said, 'I believe in you,' and I still do." Jim continued. "There is no one like him in the world of youth ministry today; he is the world leader."

While Jim spoke about Doug, Doug walked up on the stage.

"When I went to youth group, Jim made Jesus fun," Doug said. "When I was in Junior High, Jim came to my games and took an interest me and wanted me to know God's Word, and he made it come alive for me," Doug said. "Jim asked me to help in junior high ministry. Jim was my example. I wanted to be a youth pastor and train other youth pastors."

Doug shared about a young man who he tapped on the shoulder in due time, and that young man came up on stage. The stories of inspiration and legacy continued until there was a line of six men, each echoing the difference it made in the trajectory of their lives to have a youth pastor tap them on the shoulder and believe in them. The last in line was a young man named Parker Genoway, who in addition to thanking his youth pastor standing in line before him, brought the line-up full-circle by saying this his father was in Jim's youth group many years ago. Parker then asked John Watson to stand.

"You had no idea back in 1970 when you tapped Jim on the shoulder and said, 'I believe in you' what you were passing on, " Parker said. "You were really making a difference, and you didn't even know it."

For the complete article, click here.
Having all of us stand up on stage (ages 16-67) was a beautiful display of one man's faithfulness and commitment to care for teenagers. Five decades of youth ministry stood together and showed the power of discipleship and what can happen when one person invests in another.
You may not have the opportunity to see your influence, in the way that John Watson and Jim Burns did, yet. It's coming. Continue to be faithful. Continue to tap kids' on the shoulder, believe in them, and point them toward Jesus. You are part of a legacy-building-partnership that has its lineage in Jesus.
Question: is there someone in the line of your faith-development who might be able to go back to and simply say, "Thanks for what you helped start in me?" It could be real meaningful. Share your thoughts here.