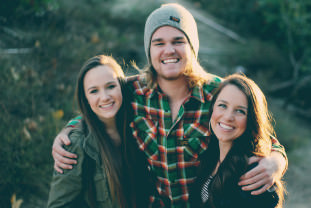 As I write this, two of my three kids are at camp. The 24 year old is on a youth ministry staff where she has been in charge of running this particular camp, and her 21 year old brother went to help out (a last minute counselor cancellation).
My kids know camp. My kids love camp.
They should… they are children of a youth pastor.
They tagged along to camp before they could walk and have seen just about every time of camp/mission trip/overnighter there is. I loved having them there and they loved being there.
FAST FORWARD: Today, fortunately, all 3 of my children love and follow Jesus, value the collective gathering we call church, have deep/meaningful friendships, love their family, and even enjoy their parents (which talking about that is the easiest way to get me to cry).
I realize all of that could change at any time.
I talk with youth workers almost every day, and this summer it seems like I spoke with more insecure youth workers/parents than normal. My use of the word "insecure" is different than you might imagine–I don't mean they couldn't look me in the eyes. I mean they were insecure in their parenting/youth ministry decisions.
PAUSE: I understand the fear of raising kids in the ministry… for Cathy and I, working with teenagers was a form of birth control early in our marriage. I always wondered, "Are my kids going to be freaks because they grew up in youth ministry?"
Here was the most common question I heard: "Are we doing the right thing by bringing our own kids to camp?"
I'm sure there are many who disagree with me, but that specific question is always met by an immediate "yes" from me. Yes. Yes. Yes.
A significant part of who my kids are (now, as young adults) is because they were constantly surrounded by amazing people (teens & adults) in fun environments (like camp!). I believe one of the key factors in their faith development was watching older "kids" live and fail in their pursuit of Jesus on these trips. As PK's, my kids went to school on other kids.
Today, many of our friends will ask how we infused a heart for the world into our children (they ask because all of my kids frequent Africa). I'm not exactly sure, but I know that every Spring Break (from when they were in the womb all the way to teen years) they would join us as we ministered in impoverished communities in Mexico. I'm not positive that's why they have a missional world view–my theology leaves a lot of room for God's Spirit outside of our parenting decisions–but, I know taking them along contributed.
I realize that this broad-sweeping "yes, take your kids with you to camp" begs more questions and it's definitely not as simple as I'm making it sound. But, as you evaluate your summer and consider next summer… I would encourage you to make your kids part of your camp. Don't feel guilty for bring them. Don't second-guess yourself.
Okay, bring on the questions (parenting and youth ministry) and I'll do my best to answer some of them.
Enjoy your parenting… they'll leave the house before you know it (our youngest leaves in 24 days, 3 hours and 18 minutes). Dang, more tears.