As part of the debut of my new series, "Be her hero: how NOT to suck as a husband" this week's posts will focus on marriage.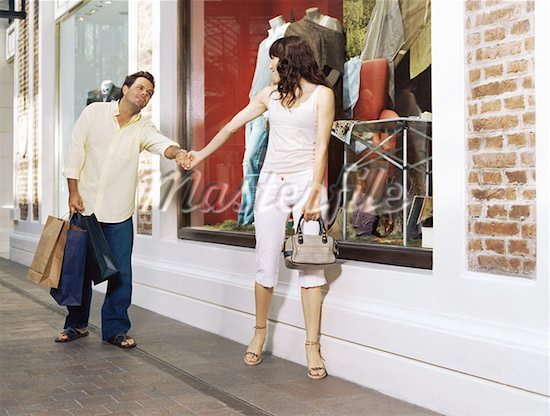 Years ago if you found me in a mall, you probably would have seen me in Best Buy or a sporting goods store. Now you'd find me in Aldo's looking at women's shoes, or the Clinique make-up counter at Macy's.
No, I haven't lost my love for electronics and sports… I just love my wife, and finally have grown all the wiser.
Men are funny. They always want to know the secret to keeping their wife happy, but when I ask them about their wife's interests, the question is often met with, "I don't know. Women stuff."
Let me introduce you to what I call "Duh" wisdom—the stuff we should already know.
The secret to a happy wife is this: Notice her.
"I love the way you did your bangs today, it draws attention to your eyes. Wow, your eyes are beautiful."
Try that one on for size.
Or next time you're walking out of J.C. Penney's and your wife stops at the Sephora counter and starts looking at eye shadow, don't exhale and tell her, "I'll meet you at Cabella's in the gun section." Instead… notice! Take note of the shade of shadow she's looking at. Make note of the brand. Does she look at nail polish? What color? Jot it down.

Two days later, place a small box on her pillow with that shade or color in it. Better yet… paint her toenails for her.
Dads, this doesn't end at your marriage, it applies to your daughters as well. My daughters both love shoes. Alyssa loves any kind of boots (and boots are the rage right now), Ashley, my tom-girl, loves sparkly heels and high top Converse (I can't figure that one out). If I ever want to get some one-on-one time with my girls, all I need to do is poke my head in the door and say, "I'm thinking that you and me hit DSW Shoes and follow it up with some Tasty Time Yogurt."
Never fails.
The crazy thing is, if I popped my head in my daughters' room and said, "Hey girls, how about you join me at Wal Mart looking for some sprinkler pipe, and then maybe we get a Del Taco Burrito?" They both would probably just look at me, "Ew!"
I get more opportunities to hang with my daughters because I take the time to just stop and notice their interests.
Is this materialism? No… this is wisdom. I know a guy who thinks that this is materialism. His kids hate him, and he hasn't had sex with his wife in a month (I'm sure someone's gonna be offended by that comment… sorry Doug). But this also doesn't have to revolve around shopping. My daughter Alyssa loves to draw and paint. I can earn big points stopping in her room and asking, "Whatcha painting?" or looking through her drawings and commenting, "This one's my favorite!"
Don't underestimate the simple power of noticing.
Next time your wife (or daughter) stops at Bath and Body Works, take note of what lotion they like. (Brown Sugar and Fig!)
Ladies this works the same with men. There's nothing sexier than my wife asking me the difference between a Plasma and a LED flat panel!
Question: What about you? What are ways you apply this in your marriage? As a parent? Share your thoughts here.
GUEST POST by Jonathan McKee has become a regular guest blogger on this site! He is the author of numerous books including the brand new Candid Confessions of an Imperfect Parent, as well as youth ministry books like Connect: Real Relationships in a World of Isolation. You can find his excellent blog here.