It's no secret that most of my ministry-life has been dedicated to creating products that are helpful to youth workers to save them time (so they can spend time with teenagers and leaders) and help their ministry. It's what I love to do!
Last year, with my buddies from the Youth Ministry Garage (Josh Griffin & Matt McGill), we put together a little site called DownloadYouthMinistry.com that now has almost 200 products on it and it's continuing to grow (thanks to some really sharp youth workers who are sharing their very best stuff). Anyway, it's super-cheap, trench-tested, and totally customizable.
Starting today we're having a 12 days of Christmas Blitz with many items costing only $1. Go here for more details.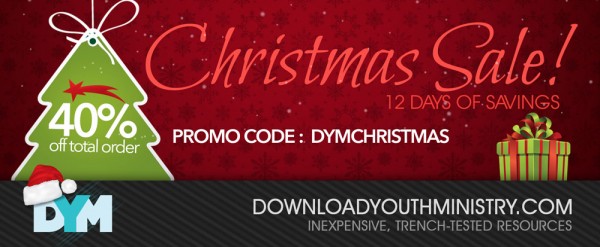 Here's one of the products that I just posted called, Christmas Comfort… It's a word-for-word teaching (ready for your edit and personalization) that might help you on a Christmas message during this busy time of the year. Hope it's helpful (use the 40% off code).