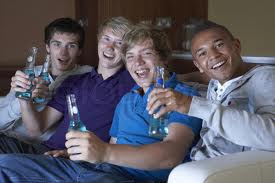 I love the guys in my small group!
These 10th grade guys are intrigued by Jesus and blown away by what He taught.
Last week we were looking at some of Jesus' more radical statements (which is pretty easy to do) and we looked at Matthew 20:26-27 where Jesus says:
"But among you it will be different. Whoever wants to be a leader among you must be your servant, and whoever wants to be first among you must become your slave."
I kept pushing these young followers of Jesus to give me examples of what this idea of "serving others" might look like for a 16 year old in the 21st century. Many of these churched-kids were struggling with the concept of servanthood—when it came to contextualizing this onto a high school campus, it was difficult for them to imagine.
At first I thought they were goofing around with me and had a meeting beforehand and said, "When Doug asks a question, pretend you don't have the answer." They didn't. They really struggled with what serving/being-last/least of you/slave means.
I told them that I was going to text them the following day and ask them for one example of where they thought about the principle of servanthood and acted on it. In turn, they had to text me back with their example of how they served. Here's a few responses:
"I volunteered for the job that everyone hates in my class. I hung up posters around the school. I know it sounds dumb but that's like the worst job ever."

"Helped my bio teacher clean up after class!"

"Gave kid food that had none."

"I was the last one out of my class in math."
As I reflected on this night of teaching, I began to wonder if I assume too much when I teach teenagers. I've been doing this for 30 years and every once in awhile I get surprised by how little I know about my audience. And yet I know teenagers. I live with them. I think I work hard at knowing them, their culture, their spiritual IQ… and yet, I often walk away from teaching times as the student.
How about you?
Question: What is it that you're constantly learning as you teach teenagers? Share your thoughts here.