Yesterday I had the privilege of speaking in Hattiesburg, MS at our "Speaking to Teenagers" Seminar (with my friend Duffy Robbins).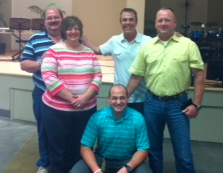 As always, we had a blast! I love this day of training because it's so easy to spot the youth workers who are hungry to learn. There's a lot of content in this seminar that's peppered with a ton of laughter. It's really difficult for me to describe the joy I have for this event.
I met a bunch of incredible youth workers! One youth worker's story grabbed my heart, and I left thinking, "He's a good picture of the face of youth ministry." His name is Jared Beard and he retired (after 20 years) of working in the Customs Department (both domestically and oversees). He felt God's call to retire and pursue youth ministry. Since he retired, he's been in full-time ministry for 4 years (I'm guessing he's in the neighborhood of late 40's…early 50's) and he's doing a GREAT job! He came to our seminar with some of his team (pictured above).
I think a lot of people have an image of youth ministry being a "young person's game" and it's not an accurate image. Sure, there are a lot of 20-somethings that are doing great ministry, but there are also a lot of 50-somethings that are clearly following the call of Jesus and loving teenagers and their families and trying to help them grow spiritually. I'm grateful for people like Jared…who heard God's call (later in life) and obeyed.