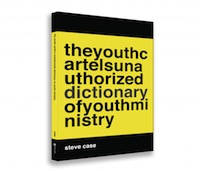 The Youth Cartel's Unauthorized Dictionary of Youth Ministry
is a book you should give away as a Christmas present for each and every youth pastor you know…and buy one for yourself while you're at it. It's a wonderfully funny relief from many of the less-than-funny things we encounter as youth pastors.
It will help you put things into perspective, it will make you chuckle at how eerily familiar some descriptions sound and at times, it will just make you laugh out loud and thus help you find a relief for your stress.
One thing is good to mention: it's a very American book, both in the type of humor and in the examples used. Since I've lived and done youth ministry in the US, I could relate to most of it, but that's probably not the case for a lot of people who aren't from the US. Just saying.
Here are a few of my favorite entries:
Abomination: Whatever a small group of loud people is angry about this week.
Burnout: When that little voice that says, "You can't choke, slap, or otherwise damage that teenager," just gets quieter and quieter until it's barely even there.
Congregation: You know, the rest of the people in the church who aren't youth.
Control: You have none. Get over it. #thisisyouthministry
Delegation: Anything you don't want to do. #cleanup
Discipline: #ducttape #cattleprod
Elephant in the room: Metaphor for any subject that should be talked about in churches but will never be talked about in churches because we don't talk about such things in churches.
Extrovert: Yeah, yeah, we know about ENFP and PMS and ESPN, and all that Meyers-Brigss stuff. Teenagers come with two personalities: tolerable and intolerable. One you can deal with, the other may require special equipment. #ducttape #dimetapp #bicyclelock
Hell: #staffmeetingwhengivingisdown
Job description: Remember that piece of paper they showed you when you interviewed? Remember that line that reads "other duties as assigned"? That'll teach you, won't it?
The rest you'll just have to check out for yourself, just buy the book
already. You won't regret it!
(P.S. The guys over at The Youth Cartel gave me a free copy in exchange for an honest review – I didn't love the book because they told me to, I did because it was truly funny!)