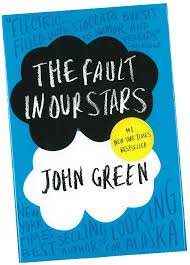 A few weeks back I spoke on the topic of pain and suffering. Something happened in my message that has NEVER happened before…
A little background:
I had done a little "research" and read some books that several of my students had been talking about lately. Most of these books are written by John Green. I now refer to him as the Judy Blume of this generation. These books are filled with sadness, love and even hope…but they address the suffering that young people may face in their life. His books include: The Fault in Our Stars, Looking for Alaska, Paper Towns and An Abundance of Katherines.
I recently read The Fault In Ours Stars. This book is a best seller and is currently set to come out as a movie in a few months. This book had a few great quotes that fit right into my message on pain.
When we flashed the image of the cover onto our screens…and I referenced the book…the room erupted with noise. I kid you not, there was moaning and gasps coming from everywhere in the room. It was like I had posted a photo of a cute kitten being held by a newborn baby. In that moment, by using the book cover and the simple quote from the book I was able to draw almost every student into this tough conversation regarding pain and suffering.
This moment reminded me of the power of being aware and being interested in what is happening in the lives of our students.
Being aware says I know what's going on in your world…and being interested says that it matters to me too. A easy and simple step that earns you credibility to speak truth into their lives.
I want to be more aware and more interested. How do you say engaged in what is going on in lives of your students?