Guest Post: Andy Blanks is the co-founder of youthministry360. Andy has worked in youth ministry for 13 years primarily writing and developing Bible study resources for teenagers. Andy is a volunteer youth leader with his church's youth group, leading small groups, and speaking and teaching whenever he gets the chance. Andy blogs about discipleship and spiritual formation daily at http://andyblanks.com.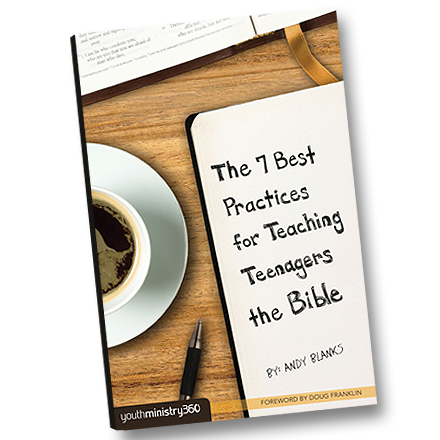 I'm passionate about teaching teenagers the Bible. And yes, I'm aware that for a lot of people this passion can take on a life of its own, in some cases taking the place of our passion for God, himself.
I'm a Michael Gungor junkie. And he alludes to this issue in beginning of the song, "Cannot Keep You":
"We cannot keep you in a church.
We cannot keep you in a Bible,
Or it's just another idol to box you in."
The truth is that we can make teaching the Bible about a lot of things. But what it is, and what it always was meant to be, was the best means of coming face to face with God and his ways. In the Bible, we have God's fullest picture of him and his story.
As those who are called to lead students to a deeper faith, there's a ton of importance attached to how effective we are at teaching the Bible. It's about leading students to truly encounter God each time we open the Scriptures. As lofty as this sounds, I think it's 100% attainable for every man and woman who teaches teenagers, regardless of his or her experience or background.
This belief led me to write "The 7 Best Practices For Teaching Teenagers The Bible." You see, I wanted to write a book that didn't require a seminary degree as a prerequisite for reading it, a book that very clearly did what it was intended to do. 7 Best Practices is simple, straightforward, a little fun, and a lot practical. It's designed with one very simple aim in mind: I want you to read it and immediately be equipped to put it into practice in your teaching time.
For each of the 7 Best Practices, I help you know why they are indeed a "best practice," but more importantly, how to put them to use. I give a ton of relevant examples, activities, and strategies. Again, the goal is immediate implementation! My hope is that it's the kind of book that will impact your teaching on some level, whether you're a veteran or a rookie.
In case you were wondering, here are the 7 Best Practices:
•Best Practice #1: Engaging With God
•Best Practice #2: Prepare Well, Teach Well
•Best Practice #3: Context Is Key
•Best Practice #4: Embrace Unpredictability
•Best Practice #5: Plan For Interaction
•Best Practice #6: Teach For Application
•Best Practice #7: Know Your Role
If you think this book is something that would help you or your volunteers, I'd love for you to sample the first chapter and find out more info. You can do so by going here: http://youthministry360.com/the-7-best-practices-for-teaching-teenagers-the-bible/
And if you have any questions, don't hesitate to ask me. Shoot me an email at [email protected]. I'll be happy to help!