Did you know that February is Teen Dating Violence Awareness Month?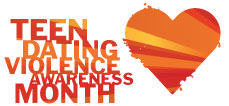 Did you know that 1 in 3 girls a victim of physical, emotional or verbal abuse?
Or that 1 in 10 High School girls has been purposefully been hit by a boyfriend or girlfriend?
Dating violence is much more common than we think and it may very well be happening to girls in your ministry.
Church should be a place where we talk honestly and openly about important and relevant issues. Based on the statistics above this issue is VERY relevant…and deserves our attention. Maybe in the past we haven't talked about these things but now is the time for churches to start speaking up for those who are victims of abuse.
Talk about and model healthy relationships with the opposite sex. Don't assume that students know that abuse is not acceptable. When a student has been raised in a home where abuse (of any kind) is present, the behavior becomes normalized. This conversation needs to happen with both the guys and the gals.
See something, say something. Teach students to be on the watch for other students. Give students permission to come to you with their concerns. Also, if you see signs of abusive behavior than step up and say something. Get involved.
Check out this helpful website for more information.