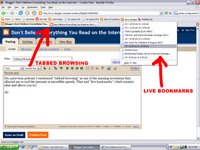 On a previous SYM podcast I mentioned "tabbed browsing" as one of the amazing inventions that allowed people to surf the internet at incredible speeds. Basically it's a feature in FireFox that allows you to have multiple windows open surfing the internet at the same time in a single window. In short, that allows you to have one work tab open and five, uh … non-work sites surfing all simutaneously. It'll take about 5 seconds to figure it out and fall in love.
The other most awesome feature of Firefox is "live bookmarks" which monitor sites and allows you to see headlines and recent posts all from one browser window. It lets you check for updates on sites without ever wasting the time to go there if it's stale. And, it allows you to go directly to the particular news item rather than searching through tons of content on any given site. I use these features every day, so I'm a believer.
Anyhow, I've taken a screenshot (above) on my system as I type this so you can see what it look like if you're considering installing. You won't regret it. This thing is SO powerful, if you haven't given it a test spin yet, you really should. Leave a comment over the weekend with reaction!
JG
—— GIVE IT A SHOT! CLICK THE ORANGE BUTTON IN THE RIGHT COLUMN —>