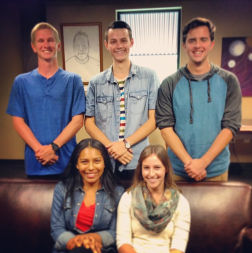 I'm so excited to brag on these 5 students – AJ, Nolan, Micah, Abby and Alexa are already crushing it at our church this summer. They are all former students headed into all sorts of different fields giving their entire summer up to serve our student ministry. They've already done an amazing job just a few weeks in and I'm so proud of them.
They are all assigned to different roles in a rotation this summer that will observe (June), partner (July) and then lead (August). But this week I even tossed in a wrinkle for a couple of them – I asked 2 of them to teach the youth group message! Rather than give them too much warning and freak them out, I told them the night before to watch my message closely because they were going to teach it in the morning. Now … before you think I'm too cruel of a boss … please know that they were ready for this. Totally ready, if a little intimidated!
You know what? They absolutely crushed it. AJ and Nolan did SO good and I was so proud of them. They both took my outline and added their own style, fun and personality. I'm so proud of them for stepping out and stepping up! Summer interns are the best.
Do you have interns in your church? Share a story in the comments. And if you're interested in starting an internship in your church, grab this amazing resource – it'll give you pretty much everything you need!
JG