This morning I awoke so very tired and yet so very thankful for the great success of our Student Leadership Conference. It was a incredible week, and based on many conversations with teenagers and adult leaders, we'll see many of them next year (save the dates July 10-13).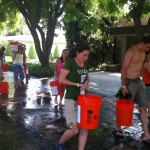 I "called-in" several friendship favors (to keep the costs down) as our year 1 @ APU was really a year of R & D (research/development) and low price offering so we could help youth groups during this difficult economy (only $99 for 4 days). Thankfully the low cost and my "I will serve for free" friends helped us minister to and challenge 450+ people from all over the country.
I'm so thankful to:
1. Doug Franklin & his amazing team a LeaderTreks for providing some very creative leadership experiences.
2. World Vision for a life-changing Water-walk experience that gave our young leaders a global perspective.
3. Jim Burns & the team at HomeWord for an amazing picture of discipleship & legacy.
4. Taffy & the incredible student band (Taffy is one of the best youth workers/disciplers thru music I've ever seen).
5. My podcast partners for teaching workshops–Matt McGill, Josh Griffin, & Katie Edwards.
6. UFC fighter & Christ-follower Mark Munoz for his message on perseverance.
7. Author, Men's Ministry guru Kenny Luck who delivered a most-amazing closing session.
8. David Peck (Assoc. VP @ APU) who had the vision to host this event.
9. SYM/Group for graciously paying for our notebook.
10.Dear friend & incredible communicator/youth worker/author Megan Hutchinson for speaking.
11.Several gracious youth workers who brought students and also taught workshops: Rory, Danny, Michelle, Freddy, & Andrea.
12.Jeff Maguire & Neely McQueen for jumping-in and adding your life, creativity & humor to this event.
13.A team of "behind-the-scenes" servants who were the backbone to this event: Shay, Ange, Soeron, Ron, Katherine, and Leigh (Sarti Design),
14.The Kern Center & Steve Quatro's leadership for providing funds to resource & care for the adult leaders.
15.Long-time youth worker and NNYM guru in southern CA–Mike DeVito poured into the life of leaders all week & reminded us we're better together.
16. Jana Sarti's amazing leadership/vision who worked so hard for so many months to make this happen–she's an amazing and godly-leader!
It was so fun to have groups from all over the US! Many were from CA, but we had groups from Seattle, New Mexico, Arizona, Nevada, South Dakota, Illinois, and even New Jersey. Here's the very fun group from New Jersey: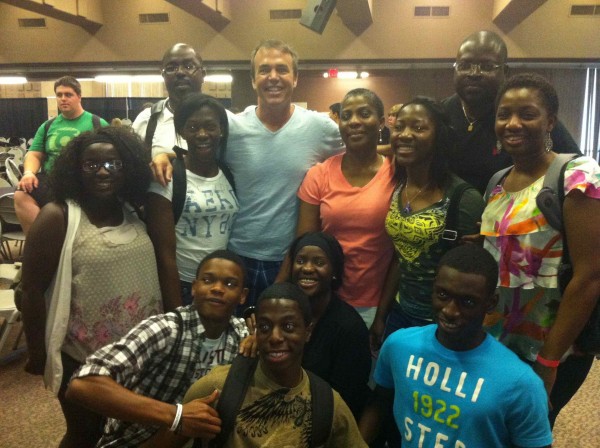 Here's the short video recap that was put together by David Walker–a great teenager who served me all week by taking video (he's also in my 9th grade small group–although he tells me it's a 10th grade group now–I tell him he's a freshmen until September)
Obviously we'd love to have you and your group consider joining us next year. We know some things about next year: (1) the dates–July 10-13, (2) it will be in Southern California (and we're exploring a 2nd option on the east coast), (3) it won't be only $99…but, we'll make it very inexpensive–the earlier you sign up the cheaper it will be, (4) we've already started to think about pray about next year's program, (5) It will sell-out! Start praying about it and consider if it might be right for some of your leaders (and potential leaders).
To the groups who came this year: thanks for trusting us with your incredible kids!
Question: What did you do for developing student leaders this summer?