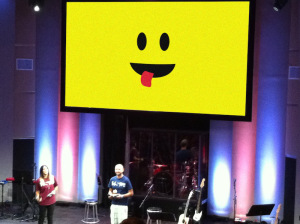 Parker is a genius. He is on staff here on the HSM team at Saddleback. He is the creative guy and he can literally make anything and everything. You can check out his blog HERE, and check out some of his other stuff. You can download this program for FREE now! Which is awesome and it really is a cool thing anyone can do for their service. Below is Parker's post that goes along with this video. Click HERE to check out his website.
I created iSmiley for a three week series we called, "Happy". Face, as we called him, showed up at the beginning of each service and interacted with the host and audience. It was a ton of fun and the students loved him! Everything was controlled by a laptop plugged into the big screen backstage. The "puppeteer" spoke through a microphone to give Face a voice.
He's an installable app for Mac & PC. iSmiley is FREE and comes with free updates for as long as I live! Since I don't plan on wrestling bears any time soon, it should be totally worth it! Plus, I'm a youth worker and the massive amounts of money they are paying me isn't enough to support my lavish lifestyle while I pay off my yachts. Please let me know if you have any requests for future updates. As always, if you use him for your youth group, send videos and pictures!
Frequent Asked Questions
Q. Does iSmiley work on my Mac?
A. Yes! As mentioned above, it works on both a Mac and PC.
Q. I can't open the install file! What the heck, dog!
A. Whoa bro! Calm down! You may need the Adobe Air Installer. It takes a few seconds (unless you're on dial-up grandma!)
Q. How do I get Face on the big screen at my church?
A. You're going to have to talk with your IT guys for that. Long story short, every system is different. You'll need a display cable to go from your computer to the screen. Again, that depends on your computer. If you get really stuck and have no where to turn, feel free to email me!
Q. Does Face support the theft of NBA talent by the Monstars?
A. No. Absolutely not.
Q. Are you making more apps?
A. Yes! There are some awesome youth ministry games in the works! You can follow me on Twitter (@parkerstech) for updates!