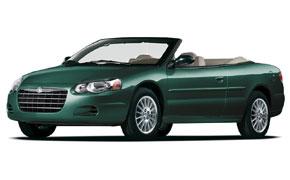 click on car for blue book value
OK … after some long evaluation of our finances and the awful cost of living here in California, not to mention the rising cost of gas (yeah, it's down to $3.39!) … shoot, we'll, the Griffin's are "downsizing" to one car. And unfortunately, we're going to have to stick with the mini-van.
Soon I'll be listing my sweet 2002 Chrysler Sebring convertible and try to get some cash out of it to reduce some monthly bills. It just looks like we've been limping along on bandaids for a while while we really need surgery.
Ever feel that way? Sigh. Oh well, I think it's the right thing to do – this is one of the sacrifices we have to make for our family to work the way we want it to. It's just hard letting such a fun car go. Oh well!
JG