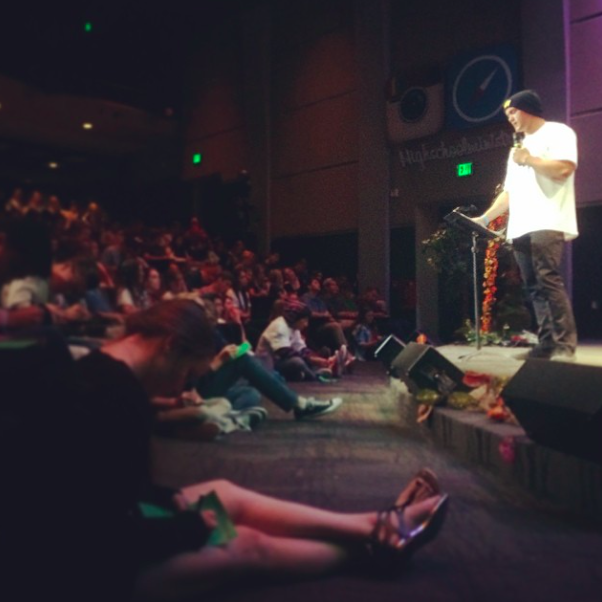 Weekend Teaching Series: You Own the Weekend (Santa Margarita High School)
Sermon in a Sentence: Adam and Eve committed treason against God, so do we, but Jesus paid the ultimate sacrifice on the tree on Calvary. Treeson.
Service Length: 71 minutes
Understandable Message: It was exciting to add a new school to You Own the Weekend series this year! we had enough students pull together from Santa Margarita to run the services and they did a fantastic job! The message was taught in 2 parts: Emerica talked about the story of Adam and Eve and introduced the theme of treason. Then Jonathan (pictured above) shared his story about his sins and treason against God and how he led other people astray at his high school. It was an incredible weekend, VERY powerful message and clear presentation of the Gospel to a crowd that included many new, non-churched students. So good!
Element of Fun/Positive Environment: The opener was fun, the atmosphere and stage decorations were great and despite having less students than some of the other schools there was a great energy to the room. Students were great greeters and everyone wore matching "Treeson" shirts they raised the funds for and had printed. The game Egg Roulette was a hit, and we definitely discovered a few more students who are good on stage!
Music Playlist: Let It Go
[Demi Lovato cover], We Are the Free, Hosanna, Oceans, Scandal of Grace
Favorite Moment: I love You Own the Weekend. For sure my favorite series of the year! I haven't been on stage in 6 weeks, and our youth ministry didn't miss a beat. In fact, it improved! Ha!
Up next: Easter Sunday (Worship Together Weekend)