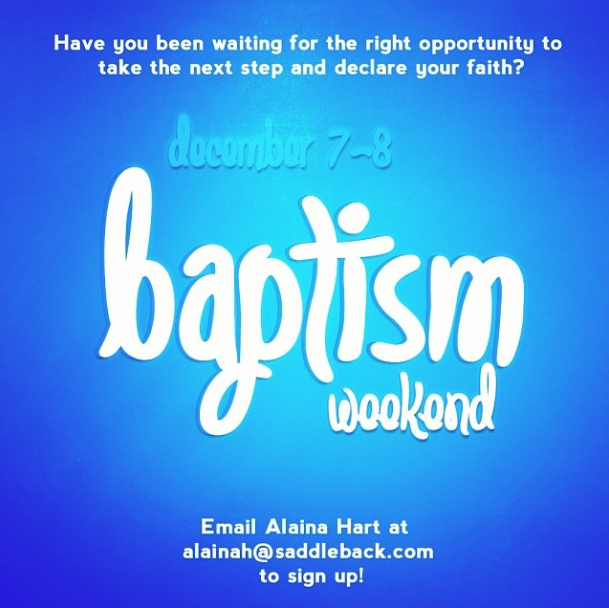 Weekend Teaching Series: Baptism Weekend (1-off)
Sermon in a Sentence: Baptism is a beautiful symbol of being welcomed into God's family!
Service Length: 55 minutes
Understandable Message: The weekend in youth group I tried to tell the Christmas story and weave in the teachings about baptism for a special 1-off before our 1st annual Christmas play. I talked about how the story of Jesus coming to earth at Christmas wasn't just about Him being welcomed into Mary and Joseph's family, but that it was about a larger narrative of everyone being welcomed into God's family through salvation in Him. It was great fun to share the Gospel with our students and also have baptisms at the end of the service, too!
Element of Fun/Positive Environment: We did an "announcement" like we haven't done in a while: we called it Storytime with Justin where he read a fake Children's story that had lots of info about our upcoming Winter Retreat in it. Kinda hard to explain but a fun creative way to do announcements. Made everyone laugh, especially seeing Justin in front of a LED screen fireplace and in an adult onesie. We also played a fun round of Sit Down If and students were involved in every part of the service, greeting, promoting the Christmas Toy Drive and more!
Music Playlist: Carol of the Bells (a cappella), Go/Joy to the World Medley, We Are the Free, O Come All Ye Faithful
Favorite Moment: Baptisms are my absolute favorite part of ministry! Fun even doing them out in the cold, and hearing everyone cheer as the students came up out of the water. Never get tired of it!
Up next: Christmas in Space (1-off, 1st annual HSM Christmas production)