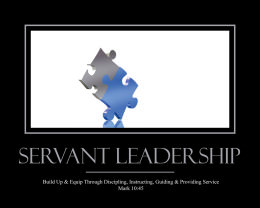 I posted about how there were 8 qualities of a servant leader. I gave the first 4 already. Here are the other 4. If you missed the first post, check it out HERE.
A servant leader:
5. Leads with vision, direction, and purpose.
Sell. Don't tell. Persuade with vision. Convince, don't coerce. There is a big difference between leading someone with a passion and manipulating someone to get something done that you want. Invite people to participate and collaborate together so that you may inspire, challenge, and energize and motivate the people you work with. Engage people's hearts and minds and get people to believe that the cause you are working for is worthy of their time, and that your cause is transformational, and that cause brings glory to God. If they see how passionate you are, how sold out you are, they will take your example. If you are not pumped up, they will not be either.
6. Puts a very high value on developing others.
A good model is: you learn, you grow, you change. You look for the talented people, the ones with raw talent and then train and coach them, you disciple them. You need to create opportunities for collective learning and growth and give constructive feedback. As hard as it might be, you let them learn from mistakes because sometimes we need to allow someone to do something poorly so we may teach them to do it correctly.
7. Empowers others to act.
We cannot micro-manage or be a control freak. Do not invoke position, privilege, or power. You gave that person a job to do because you thought they could handle it. Let them go. If they fail, then you can coach. If they succeed they feel empowered and become even more passionate. Delegate what others can do, but don't delegate responsibilities because that develops followers. Instead, delegate authority because that develops leaders.
8. Is Driven by the values of Christ.
It's integrity before ambition. Our behaviors are the same as our values and we actually live out what we believe. Servant hood in the bible is important because the central theme of the bible is about the servant of all…Jesus Christ.
Mark 10:45 (NIV)
For even the Son of Man did not come to be served, but to serve, and to give his life as a ransom for many."
Is there anything else that you would say would be a must for a servant leader? I am sure there are more, but these are the ones that have stood out to me. These are things I am trying to learn how to be better at and model after Jesus so I can become the best leader I can be while bringing glory to Christ.