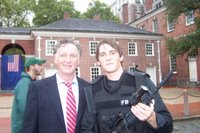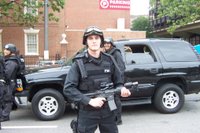 A student who graduated from my youth ministry back in Michigan sent me some fun pictures tonight from the set of Shooter. He was an extra on the set this week, and also recently appeared in Mark Walberg's Invincible (a fantastic movie in theaters now). Here's part of the email he sent me with some pics last night:
Here are some pics from the set of the movie Shooter we're filming in Philly right now. It's starring Mark Wahlberg and Danny Glover, and is being directed by Antoine Fuqua (from Training Day and Tears of the Sun among others). Not sure when it's coming out. The guy in the one picture with the suit on is playing the President. Us SWAT guys are dressed up in the real deal FBI gear, including the automatic rifle and sidearm strapped to the leg. We had to check them in during breaks so we wouldn't go walking around the city scaring people.
Fun experience … and some great pics.
JG