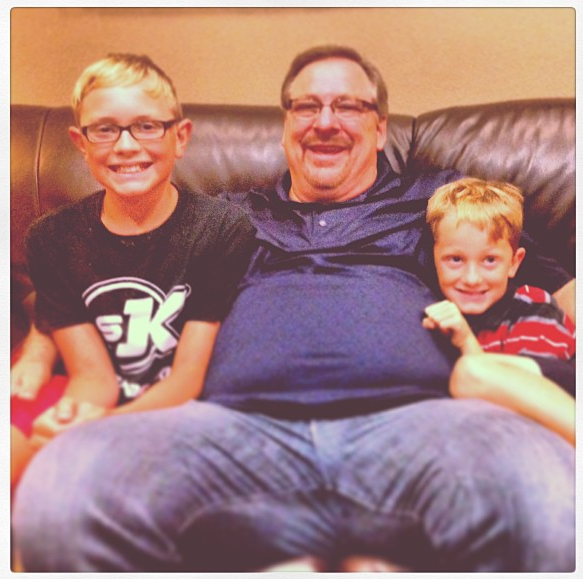 It is great to have our pastor back this past week! My boys got a chance to hang out with him in the green room this past week (love the picture above so much!) because I got a chance to do the "welcome" at our adult services. There's been a lot of press about Rick Warren's return, I most enjoyed this post from a rabbi who visited last week, here's a clip head there for the rest:
There was an almost eerie contrast between the sparkling sky, the immaculate Saddleback campus dotted with cheerful greeters, and the drama of grief and faith that had gripped the church. I met up with colleagues, Rabbi Elie Spitz and Dr. Ron Wolfson, who had also come to show their friendship and support. The music kicked up, as young men and women in jeans led the congregation and large screens supplied the lyrics. People sang enthusiastically but with an acute consciousness that on this morning praise was a prelude.

Two songs later the Warrens were introduced and the 5,000 person hall along with all the annexes and auditoriums erupted in applause that seemingly would not end. When finally calmed at Rick's insistence, everyone sat and listened as he thanked all those who had helped him through. Then drawing a deep breath, he spoke.

He did not hide. The pulpit can be as effective a mask as the stage but neither he nor Kay hid the hell they had endured. Rick spoke of having cried every day since Matthew's death. He recounted how he and Kay stood in the driveway on that awful day, fearing the worst, waiting for the police to come to break down their son's door, only too sure of what they might — and in fact did — find. He spoke about the inexpressible torment of mental illness that made Matthew's life so painful that at 17, ten years before he took his life, Matthew asked his father why he had to go on living.

Kay was, if anything, even more raw in her honesty. She talked about songs she listened to in the car the past few years that helped her hope Matthew might be cured and how she could not listen to them anymore. She showed us her 'hope box' that had been full of biblical verses that had braced her as they shuttled their son from dr. to dr. and clinic to clinic. Now those passages had to be changed and new inspirations found. The power of the moment was that neither spoke to solicit sympathy. Each spoke to tell the truth. It called to mind Whitman's etched lines: "I am the man. I suffered. I was there."
Thanks for all of the wonderful emails, texts, concern and prayers over the past few months. It has been felt by our whole church – and it is great to have our pastor back!
JG